We All Rocked the Bush!!
Martell
August 15, 2010
---
Last night LEE AARON "Rocked The Bush" at the charity fundraiser "Riverfest." It was a night filled with 80's Metal from the Metal Queen and a little Jazz from some of her more recent stuff. The whole night was quite an adventure, read about after the jump!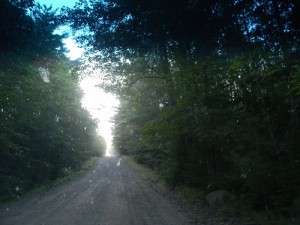 I'm going to let all of you know right now, when they say Rock the Bush they mean it. You literally leave Bridgewater and civiliation behind and travel through a dirt road to a revitalized cow pasture for three days of Rock & Roll.
When Morgan and I walked on site I was a little taken a back by how informal the whole affair was. Its a BYOB so there was plenty of open liquor floating around and lots of people having a good time. The show is promoted as a family affair and don't get me wrong the people are top knotch, but as said on stage: at 8pm Family time is over and the language and everything else associated with Rock comes out. Although, Lee Aaron was very mindful of the children in the audience and kept her show very clean even making reference to the young ones rocking out to her music.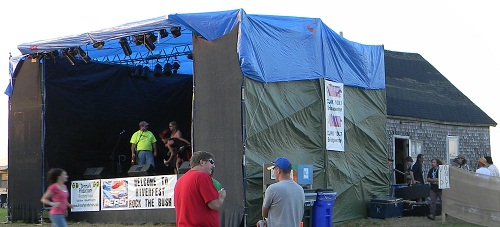 When you get parked and pull into the field volunteers, (many as we found out are in the bands) direct you to parking. We were given our media passes and back stage access and off we went to take a look at the community built stage, which is located in front of a cottage that acts as the bands green room so to speak. I went in the cottage to chat up some of the bands and it was a great feeling to see them so excited and amped up about helping out and playing in front of a crowd that most say was around 3000 people.
The major thing about Riverfest is the fact that its for a charity and its all about just kicking back and having a good time with non stop musical entertainment for three days. There were over 25 acts, but one that really stood out was the Halifax based "Stogies". Their mixture of very Blues/Hard Rock really had the crowd working hard and brought a bunch to the front of the stage.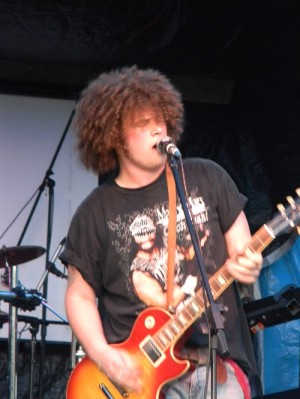 Now if you put a Top Hat on the lead singer you would have Slash, we all know it but funny no one really talked about it. Blake Johnston has a very strong stage presence and some excellant chops that will take this band a long way. Oh yeh, he can smoke, play guitar, and sing at the same time. Impressive!!!
We went back to talk with Blake briefly as he was being mobbed by congratulations on a great set. He stated the band is working hard to get the money together to finish an EP they have been working on and it should be out by the New Year. They played here in 08 under a different name with very short notice and the same thing happened again this time as they only had a day or so to get their gear together and play.
The band consisting of two Dave's and a Carver are tight with some really good drum work. I was very surprised to find out the current line up has only been together for about a year. They do a lot of gigs between Moncton, Halifax and PEI and will be appearing at Seafest next weekend in Liverpool. If you see them on the bill take the time to check them out. You'll be happy you did.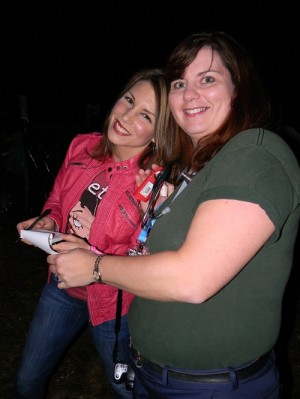 As the night went on the momentum for Lee Aaron began to build. Chants of Metal Queen were heard by a very dedicated group up front. While setting up Aaron's gear they ran into some technical difficulties so a local act entertained the crowd while we waited. I made my way backstage to wait for Lee Aaron to come out of the woods. (Litterally.) I spoke with a volunteer paramedic who was waiting for an autograph. As you can see she got her autograph and a nice pic. Pleasure to meet you Carolyn May! Thanks for keeping us safe.
While backstage waiting to go on I had a brief chance to speak with the 10 time Juno Nominee. She was sweet, sincere, and you could certainly tell she gets excited when she is about to take the stage no matter how big or small it is.
She hit the stage and looked great and sounded even better. Her husky voice is still there and high notes didn't seem to be a problem for her at all. Lee was a little cramped on stage but made the best of it by boucing around and getting everyone in on the fun.
Hits like Powerine, Hands On, and Some Girls Do brought back many memories and the liquor started to flow more and more. Lee was given shirts and hats to wear, which she did with no problem and the crowd ate it up. This was what Riverfest seems to be all about. ONE BIG PARTY!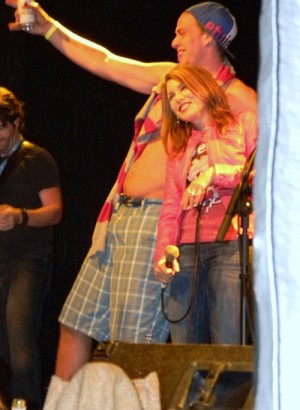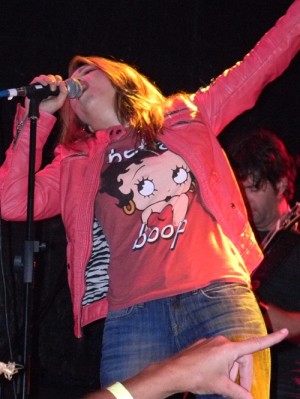 The chants of Metal Queen started all over again, but some of the newer stuff was thrown in such as "Handcuffed in Mississippi" and "Concrete and Ice." I'm not a big fan of her Jazz work but everyone there had to admit she has a great voice for it and you could tell thats where her passion is when it comes to music.
She started to close down the set by wearing a Riverfest T-Shirt and sitting on a bail of hay for "Private Billy Holiday", then springing to her feet and ripping out the rest of her 80s hits.
After the show she signed autographs for all and chatted up anyone that would listen. She is a class act and still has the vocals to keep the train rolling.
Now to close: Riverfest is a very unique experience and something you really don't want to miss. Grab a tent, some booze and lots of friends and make sure you check out the show next year. Its a festival that you will only ever witness in Nova Scotia.
© Copyright 2010 We Love Metal