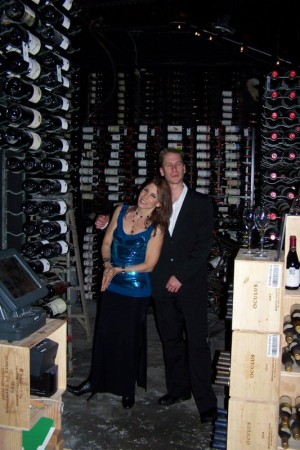 Chateau Beaucastle, Hommage a Jacques Perrin 2001, France, $24,000
Masseto Tenuta dell'Ornellaia, 2005, Italy, $7,300
Santa Rita, Nebuchadnezzar, 1997, Chile, $2,400
Penfolds, Bin 707, 1997, South Australia, $680
Blue Mountain 'Stripe Label' Reserve, Canada, $215
I'll take the Blue Stripe, thank you.
These wines are actually on the wine menu where I am gigging right now. Is it ostentatious? Well, yes. Everything about this gig leans heavily in that direction, but that's what makes it so interesting. Especially for a people observer, like me.
Let me explain.
The Bearfoot Bistro in Whistler is one of the most exclusive dining experiences in the world. It caters to a very elite clientele – saying "rich people" sounds almost discriminatory, so I won't say that – if one needs to ask the prices here, well, you just don't belong here.
Everything about this place strives to be world class and one of the features of the experience here is to have 'live' – not canned – world class music.
It's called a 'corporate' gig. Everyone does them, even the Rolling Stones. They are not particularly career propelling but they usually put a nice chunk of money in one's bank account and occasionally birth connections that lead to more corporate work.
The music director at the Bearfoot – whom I'd met through one of my agents – convinced me to come up to sing from my jazz book several years ago for a Dom Perignon convention. The owner, André love, love, loved it so much, I started getting called on a regular basis to sing for unique happenings at the venue. I couldn't do every one, because of other music commitments, but I did a few. Over time, I somehow became recruited as the favourite go-to girl for special events. Which explains why I am here during the Olympics. Despite complaints from local businesses that it is not nearly as busy as they expected, the Bearfoot is booming. Which would make one wonder: is the Olympics a party for rich people?
The Olympics have personally cost each and every Canadian approximately $75 each. Me, you, those who earn more, and those who earn much less. Yet to be here, taking in events, staying in a local hotel – all of which have jacked their prices into the stratosphere during this season – seems to me to be a privilege reserved for those who can afford it.
Last night I performed for the Governor General of Canada, Michaëlle Jean, her husband, His Excellency Jean-Daniel Lafond (who is a patron of the arts and really enjoyed himself!) and Rear Admiral Tyrone Pile (plus eight security detail officers who were stationed in and out of the establishment). The night before, Cindy Crawford and Jean Charest (Quebec Premier) were here. Prime Minister, Steven Harper, canceled his reservation at the last minute and boarded a plane to Haiti – where he should be! (Good man.)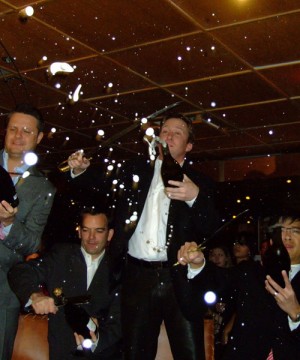 Over the last decade I've met and performed for a host of dignitaries, celebrities , CEOs and company heads. It's been an eye-opening experience to say the least, to a side of excess that I never quite witnessed during my rock years.
I have watched inebriated stock traders saber-ing the tops off of double magnums of Dom Perignon. Yes – if you have the money you can chop the top off of a huge bottle of champagne with a big sword like a barbarian. André St.Jacques, the proprietor, holds the Guinness World Record for sabering the tops off champagne bottles – twenty, in just under one minute – a category that I'm sure he invented himself.
The wine cellar, which started out as a small concrete cubby blown out under the floor, has since expanded into a 3000 square foot temperature controlled room housing a few million dollars worth of fine wines and champagnes. You can book a private party down there if you feel like really going all out and such.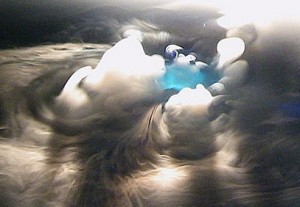 One of the latest extravagances is the crème glacier, made with fresh cream and liquid nitrogen, whipped to perfection at your table by the sorbetiere, in a frothing witch's-type cauldron. People 'ooh' and 'aah' and take photographs because it's so visually freaky. Then the waiter will pour a little splash of that bubbling chemical directly at your feet, where it hits the ground as a thick puff of smoke, surrounds the table in a momentary cascade of dry ice, then dissipates into nothingness. People 'ooh' and 'aah' some more and then eat tiny servings of ice cream from chrome martini glasses. It boasts all the charade of an '80s rock show.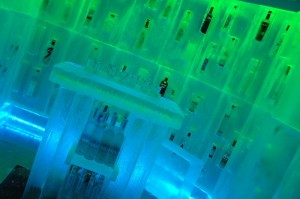 Another new addition is the "Ice Room." A 10'x10' room in the corner of the lounge, it looks like a big shower, encased in glass and sculpted entirely from ice. It is kept at a temperature of 20 below and inside are shelves carved into the ice, which house various vodkas from around the globe. There is also an ice table in the center. You can pay to slip into an 'ice room parka' and sample as many half ounces shots as you like from the inside of the arctic booth. André, who is a charismatic and sweet man, not to mention visionary restaurateur, is your gracious host.
I often wonder, as $7,500 bottles of wine are being cracked open, if these good folks are also spending that much money building wells that provide uncontaminated drinking water to third world villages. 'Cos, I think it costs about that much. I hope so.
I've learned a few things over the past few years working here. I've learned that having a million bucks means diddly these days, really. That having a lot of anything, be it money or otherwise, does not instantly personify you with taste, wisdom, morality or good grace. It does not exempt one from behaving badly.
David, a wealthy local, who comes out every time I perform here, confided in me once about his women problems. Already divorced twice, he was having trouble finding a girl who loved him for who he really was, and not what he represented. The marrying kind, he feared his new fiancé enjoyed spending his money far too much. He feared that he had a pattern of picking the same types of women again and again. Apparently, money does not stop any of us from repeating unhealthy patterns in life and love. In fact, it might just make it worse.
On another occasion, a very famous Canadian singer and her husband – who have a beautiful place up here – came by for dinner and to say hello. We'd crossed paths many times on the road in the past, and we shared the same sound technician at one time. She (the wife) wasn't feeling well – she was pregnant with their second child at the time – and left early. But, I spent quite a while chatting with her husband about music, our kids and the delicate act of balancing career and family. I sensed a definite unrest in his tone and demeanor that night. Sadly, they went through a very public break-up 18 months later. Apparently, money does not protect you from heartbreak, nor does it provide emotional security and stability for you or your children. It was a fairly ugly divorce. 'Gross,' she said.
Money gives people a little something extra to fight about. Sometimes, it makes it easier to not fight hard enough for something. Money is insidious in that it has the ability to sway your priorities. Usually, in the wrong direction.
My just-turned-4 year old son recently got sponsors for a Valentine's Day dance-a-thon at his preschool. He raised a whole $40. He knows how to pronounce 'Ethiopia'. He understands that those kids have no Spiderman toys, rainbow ice cream or clean water to drink. I'm proud of him.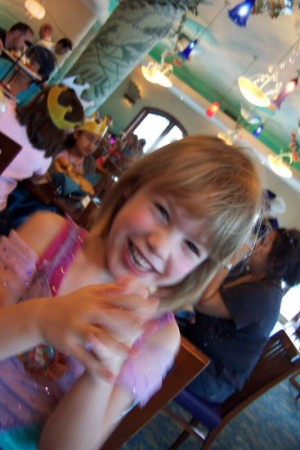 I'm leaving here and heading home tomorrow. I miss my children and my sweet husband like crazy. I can hear the exhaustion in John's voice. He's been Mr. Mom-ing it for six days now. This is the longest I've ever been away.
When I get home, two sleeps, then we fly to Disneyland. It will be the first time ever for me and the kids. I'm not sure who is more excited, them or me. Umm, I think me.
Thank you, Bearfoot Bistro. I am grateful.
I never did get my picture taken with Cindy Crawford. Oh well. I read Gordon Campbell (Premier of B.C.) missed a meeting this week, holding out for his photo-op with Miss C.
Geez. Priorities!
I'm charging my camera as we speak, and I definitely won't be missing my photo opportunity with Minnie Mouse. I can't wait to see Jett's face when he sees Woody and Buzz Lightyear! Angella is on a mission to get Tinkerbell's autograph.
Now that's worth way more than a million any day.