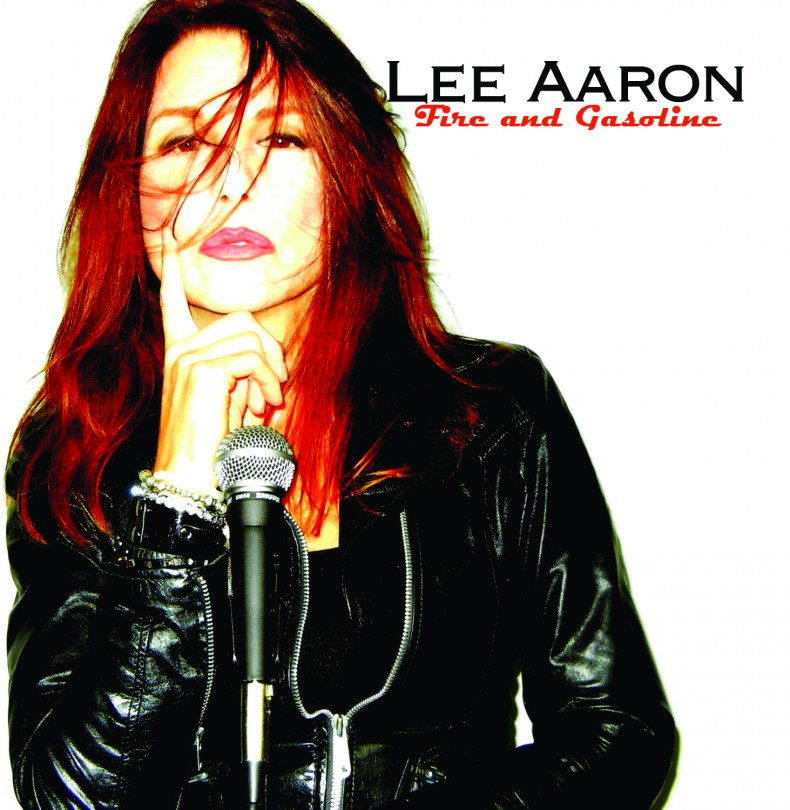 Legendary Canadian singer Lee Aaron has returned with a new album titled Fire and gasoline, so it was time to have an interview with this amazing vocalist…
Your last album was in 2004, why did it take so long to release a new album?
Ha, ha…I had this big interruption called 'motherhood.' My daughter was born in 2004 and my son in 2006, so I've spent most of the last decade focused on raising my young family. Now they are a bit more independent so some time opened up to start creating music again. I've really missed the writing and recording process actually!
What made you decide to return to Rock music?
I always knew I would make another rock record I just didn't know when. The advent of grunge in the 90's put a lot of classic rock acts off the map, including myself, so I took some musical diversions into jazz and blues during that time. It was very inspiring and I think overall, it helped me to become a better singer and songwriter, but I never stopped listening to rock music or loving it.
Can you tell me more about the creating process of the songs for the new album?
Yes. Most of the songs on 'Fire and Gasoline' were written within a few months. I always feel that the best songs write themselves and I experienced a lot of that happening on this album. I spent some time by the lake with my acoustic guitar – 50 Miles from Memphis, Tom Boy and Find The Love were all written that way but I heard the electric guitars and the other parts in my head. When I get ideas I usually try to do a quickie demo in my little studio right away. Often they are pretty raw sounding but they capture the initial inspiration of the song before I have a chance to over-think it too much. For the 5 songs that Sean Kelly and I wrote together, he sent me ideas and I took them and added the vocal lines and lyrics on some of the more complete ideas. Some were just rough iphone memos and I worked with the guitar riff adding vocals and sometimes more musical parts as well.
What are the lyrics about on the album?
Mostly the lyrics are about relationships and the human condition. I am fascinated with modern psychology and the things that motivate people to behave the way they do. Some of the lyrics are memories or reflect back on experiences I've lived through and learned from. "Bittersweet," "Heartfix," "Fire and Gasoline" and "Bad Boyfriend" are like that. The twist with "Bad Boyfriend" is that the girl in this story is self aware enough to recognize that she is at the center of her own problems. "Tomboy" is a song of personal empowerment and was written for my 10 year old daughter. "Find the Love" is a song about surviving loss and finding hope.
How was it be the Metal Queen in the 80s? And to get all this attention?
Ha, ha… in some ways it was a bit overwhelming as I was such a young girl and I was unprepared for all that attention. Traveling around the world, meeting fans and playing 'live' shows was the best part for me. Some people expected me to play the Metal Queen role full time…on stage and off stage which just wasn't reality. I'd be shopping, or doing something ordinary and people would be shocked. They expected me to be wearing a fur bikini and wielding a sword at all times..lol…
Did you find it hard in the beginning to get recognition as female artists were especially in the 1980s by some people seen as sex bombs instead of real performing artists?
It was double edged sword really (no pun intended.) It was really easy to get attention in the beginning as very few female artists were writing and performing heavier style music. The media was very interested in that, however, to some degree we were treated as a novelty. The hard rock scene was dominated by men so women had to fight very hard for musical credibility. If you weren't attractive you faced ridicule, but if you were attractive, it was assumed that you probably lacked real talent and were selling your sexuality. I'm not going to say it was easy. It still isn't. I write my songs and produce my own music but very few people care to know that.
My favorite song of you is "Barely holdin on", can you tell me more about this song?
Barely Holdin' On was a song that Bob Ezrin played for me when he produced my 3rd album. He had these demos that Joe Cerisano had done and we were looking for a power ballad that both Bob could shine as a producer and I could shine as a vocalist. When Barely Holdin' On came on we both knew that was the song. We tore it apart and put it back together again and the end result is what you hear on the Call of The Wild album.
How did you get in touch with the guys from Triumph and Santers back in the early 1980s?
My first manager had those connections. Luckily, we were all from the same city (Toronto) so putting us together was easy…he just had to convince those artists that I was worth getting involved with. I was a teenage girl with this big voice but little to no experience at the time.
Your 1987 album was a departure from hardrock/metal and was basically pure 80s keyboard orientated AOR/Poprock, why the change and how do you look back at this album?
Every album I have done was produced by someone different so each one has a signature sound that relates to that producer. Peter Coleman (Pat Benatar) produced that 1987 album and his whole production style was more pop oriented. In many ways he pushed us in our songwriting and he definitely pushed me as a vocalist to be my best. That album forced us to grow musically and there are many tunes that I still really like.
Through the 1990s you made another change in style, going for an alternative rock style first, then switching to blues and later on even pure jazz, how did that happen? And what is your favorite genre to do?
I simply love music and feel there is so much to be learned from other styles and other artists. The alternative rock style was still VERY rock and only a slight departure from what I had been doing previously. Jazz and Blues are the roots of rock music so I was inspired to explore the beginnings of rock and roll history. This is where rock music evolved from. Zeppelin would never have been the band they became without Howlin' Wolf and Muddy Waters, and guitarists like Lita Ford, Joan Jett and even Bonnie Raitt owe a huge debt to Sister Rosetta Tharpe. It was a great education for me and I feel that it made me a better singer and songwriter.
Is there a chance you are going to tour Europe?
Yes! If enough people buy the new album and it makes sense for us to come there, definitely yes! I miss Europe like crazy…
Thank you for answering my questions, at last I have some short personal questions:
-When and why did you start singing? I started singing when I was 5 years old in various musical productions. I joined a rock band at 15 and went pro at 17. There was never really a time when I thought about being anything else.
-Do you come from a musical family? Yes. My mother has a beautiful voice and has always sung in church. I also have a cousin who is a professional opera singer.
-What instruments do you play? Some keys and some guitar. I write songs on both but don't consider myself a vituoso of either.
-First bought LP: Heart- Little Queen.
-First visited gig: Black Sabbath with Ronnie James Dio @ Maple Leaf Gardens
-Favourite book: Traveling Mercies – Anne Lammot
-Favourite singer (male or female): Ann Wilson, Nina Simone
-Favourite artist: Pablo Picasso
-Brother and/or sister: One sister
-Children: daughter 11, son 10
-Drinks: Chai Tea or White Wine
-Sports: Skiing, Biking, Hiking.
-Favourite country to play: One I haven't played yet!
-Your favourite own song: One I haven't written yet!
Anything to add for our readers…
Can't wait to rock your town baby…
© Copyright Strutter'Zine