Metal On Ice
@ The Opera House, Toronto
May 10th, 2014
---
Sean Kelly's love of the Canadian hard rock and heavy metal heroes who inspired his own successful music career were his inspiration for his book "Metal on Ice: Tales from Canada's Hard Rock and Heavy Metal Heroes." An accompanying CD project was also released and received high praise including this previously published review by The Spill.
A slot in the esteemed roster of shows featured at Canadian Music Week 2014 was the next natural step in honouring the influence of Canada's metal scene. The concert was at Toronto's The Opera House and featured Sean Kelly on the axe accompanied by his Metal on Ice band and a few of the rock legends themselves: Brian Vollmer (Helix), Carl Dixon (Coney Hatch), Darby Mills (Headpins), Lee Aaron and Nick Walsh (Slik Toxik) who performed new versions of classic songs from the '80s.
Earplugs were necessary as these rawk legends tore the place apart. Age did not seem to be an obstacle for any of these performers; they brought it and delivered the goods. Vollmer entertained with the classic "Heavy Metal Love" and brought the audience to a frenzy with the crowd-pleasing "Rock You"; a great audience participation number. (Gimme an R! "R!" O! "O!" C! "C!" K! "K!" Whatcha got!? "Rock !" And watcha gonna do!? "Rock you!") This song is considered an '80s metal anthem amongst other adrenaline jolters like Quiet Riot's "Metal Health (Bang Your Head)", Motley Crue's "Shout at the Devil" and Twisted Sister's "I Wanna Rock".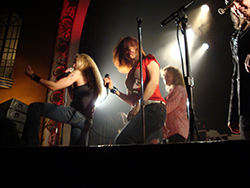 Darby Mills equally satisfied with two Headpins' classics, "Don't It Make You Feel" and "Turn it Loud". The beautiful and very talented Lee Aaron absolutely levelled the place with her songs "Metal Queen" and "Whatcha Do to My Body". Carl Dixon amazed with his guitar prowess on Coney Hatch's "Hey Operator". Nick Walsh proved that as a showman, he's in the same league as Sebastian Bach of Skid Row and David Lee Roth (in his prime) of Van Halen. His stage presence, swagger, incredible vocal range and audience-engagement are second to none. Walsh belted out Kick Axes's classic "On the Road to Rock" as well as a tune from his former band, Slik Toxik, "Helluva Time".
Okay, we're blown away. Now what's next for the Metal on Ice project? A movie, perhaps? We hope so. With a music scene seemingly stuck on low-fi indie snoozers and dancing auto-tune fakers, this show reminded us that the world needs a rock revival. Kelly's efforts could be a lynchpin in bringing this about.
– Michael Filonienko
(photography by Anita Shuper)
© Copyright 2014 The Spill Magazine