Lee Aaron Hits Ontario For Mini Tour, Readies for New Album Release
Jim Barber
November 3, 2015
---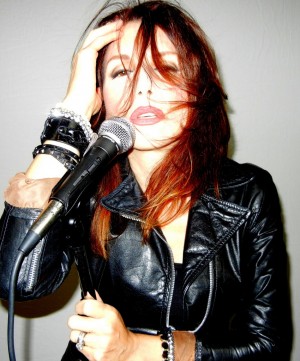 It's been more than a decade since music fans have been graced with new music from Lee Aaron. And it's been even longer since the now B.C.-based vocalist/songwriter/producer has unleashed a full on rock recording.
But that's about to change as the internationally-renown hard rocker will be releasing her as-yet untitled 12th studio album of all-original material in early 2016 after recently signing a world-wide distribution deal with ILS/Caroline International, an imprint under the Universal Music banner.
It is the first album of any kind since Aaron's 2004 jazz/pop-infused independent release Beautiful Things. Her last pure rock album was 2Precious, a collaboration with the Vancouver band The Sons of Freedom, which came out back in 1995.
Most fans would agree that it's about time!!
In the intervening years, Aaron relocated to British Columbia, got married in 2001 and is the doting mom of two kids; daughter Angella and son Jett. Family became priority number one as she stepped away from the seemingly endless and soul-sucking grind of the music 'industry' for a life of balance and domestic bliss. But she never truly left music behind, rather she decided to shed her 'Metal Queen' image, which had been thrust upon her thanks to the success and image created from the 1984 album of that name, and explore her love of more esoteric genres, including jazz.
But the rock and roll world kept calling, and once she felt she could properly balance her family with the demand (which was always there from fans and promoters) for her to return to her rock roots, she stepped back into that world again a few years ago.
And they are some impressive roots as even the most cursory examinations of her remarkable career would unveil. Throughout most of the late 1980s and into the 1990s, Lee Aaron's songs and music videos were staples of rock radio and MuchMusic, and she had also generated and cultivated a vast overseas audience, particularly in Europe.
Starting as a precocious but eminently talented teen, the former Karen Greening became the focal point of a Toronto-based hard rock outfit that was dubbed the Lee Aaron Project, releasing an album under that moniker in 1982 to great acclaim throughout the cities burgeoning hard rock/metal scene.
1984 brought Metal Queen, the aforementioned album that would entrench the Lee Aaron brand. Somewhat opportunistic, chauvinistic and, in hindsight, downright tacky marketing enmeshed the name Lee Aaron with the over-sexualized Metal Queen persona, thanks in large part to the kitsch and camp of the video and promo material for the title track. But at the time, when music video channels and programs like MTV, Toronto Rocks and a brand new MuchMusic were still breathtakingly influential, the video set Lee Aaron apart from not only her female contemporaries, but most other contemporary Canadian hard rock acts.
And to be fair, the music itself was also pretty darn good: a career does not thrive for 35 years on image alone. Musically, besides the title track, the Metal Queen album also produced the hits Shake It Up and Lady of the Darkest Night. The follow-up album, Call of the Wild, continued in the same vein as its predecessor, while Aaron began to slough off her imposed image, stretching as a songwriter and performer on the more polished and mature self-titled album of 1987, which produced the powerfully emotive rock ballad, Only Human.
She blasted into the stratosphere od the Canadian rock scene in 1989 with the release of the album Bodyrock, to this day her most critically, commercially and popularly successful album. With singles/videos such as Hands On, Whatcha Do To My Body and Sweet Talk, the album sealed Aaron as a leading light on the Canadian rock scene.
Some Girls Do, released two years later was also a big success, but with the onset of the Seattle Sound, Aaron saw the writing on the wall and shifted creative gears for 1994's Emotional Rain, which was definitely more introspective, most gritty and had a definite alt-rock vibe.
The new album sees Aaron reclaiming her rock and roll mantle, creating music that amply demonstrates that she is at the top of her creative, composing and producing game.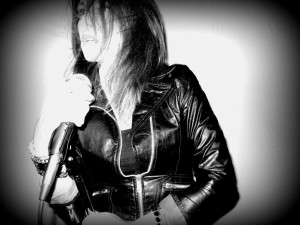 "It's a rock album, not a metal album, just to be clear. Industry folks who have heard it have described it to me as classic andLee Promo 2, 2015 classy – those are their words not mine. I just think there's some really solid songwriting and in a traditional Lee Aaron fashion, there are many big guitars and big harmonies," she said.
"It's not a rehash of Bodyrock or Some Girls Do. It's not a rehash of something I would have done in the 1980s. There is a fresh approach to all of the material. The album has actually been finished since August but we have been talking to some distributors because the idea of doing an album independently again was definitely on the table as well. But at this stage in my life and my career I was kind of hoping to not have to do all the legwork myself because life is pretty busy."
Aaron worked with noted guitar wizard and songwriter Sean Kelly (Metal on Ice, Nelly Furtado, Helix) on a good portion of the new record as well, solidifying not only a productive creative partnership, but also a burgeoning friendship based on mutual respect and love of music.
"I met him on the Metal on Ice project and live show and we just hit it off and became pals. I hired him to do a couple of shows out east and it went so well that we just decided that he should be in the band on a more permanent basis [although he won't be on Aaron's November run in Ontario.] Then we had the idea of writing some songs together," she explained.
"We wrote five tracks on the new album and some of them were as simple as him sending me an iPhone memo of his playing on an acoustic guitar. I would take that into my studio downstairs and re-demo it with a bass part and piano skeleton and some vocals. When the material was pretty much completed as demos, we got together to do pre-production and went back into the studio to record it in the spring. It was a great experience working with him."
A producer of some note in her own right, Aaron chose to work with two of the best engineers available to help her capture her musical vision for the new material.
"I worked with Ben Caplan, who works alongside Gavin Brown a lot and has done stuff with Hedley, Mother Mother and Metric. He did all the bed tracks and then I did all the vocal engineering with a gentleman named John Webster and his credits are just ridiculous. He's worked with everybody from Bryan Adams, Tom Cochrane, to Jann Arden and Michael Buble. So I built a pretty good team around me," she said.
Enviably, Aaron has managed to create the sort of life/work balance that eludes so many people within the entertainment business, as she chooses to perform only a few dates each year, this includes her run in Ontario, which sees her play This Ain't Hollywood in Hamilton on Nov. 19, Kingston on Nov. 20 at the Overtime Sports Bar, and wrapping things up at the Oshawa Music Hall on Nov. 21.
Lee Aaron – Barracuda Pretty – August 15, 2013 437
Lee Aaron live at Barracuda Pretty, St. Catharines, Ontario – August 15, 2013. PHOTO CREDIT: Joel Naphin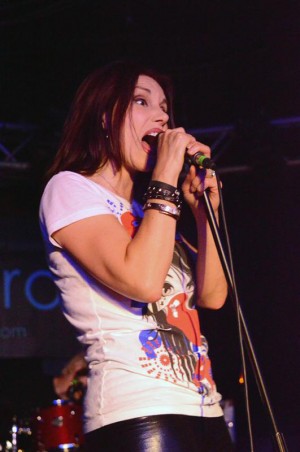 "Every once in a while I get an offer to go to Europe or something but it's usually a one off. Since having my family, I do between 12 and 20 shows a year and do them in short bursts like I am doing later this month. When I opened for Heart in Thunder Bay a few years ago I was talking with Nancy Wilson backstage about how now that we have families we like to go out and be weekend warriors. That way we can come home and be there when the kids have homework and they can have some kind of normalcy in their lives, which I think is important," she explained.
What having this balance means is that she has a whole new level of appreciation and enjoyment of performing live – certainly more than back at the height of the late 1980s.
"It feels a lot less like a job these days. It's more fun, more joyful. Back in the day recording acts were on a treadmill. Now when I walk onstage and play Whatcha Do To My Body or Metal Queen, I am not grinding my teeth going, 'oh my gosh, not this song again.' There is a real magic and a real nostalgia about those songs now and there is a shared enjoyment for both the band and the audience – you feel like it's fresh when you're playing it, as opposed to when you were a slave to the grind and you're on the road all the time," Aaron explained.
"I used to do 275 or more shows a year, most of them back to back. And by the time you've played Hands On or Sex With Love for the 2000th time, it just doesn't have the magic that is used to have. Now it's special every time we play them."
Being in control of her own creative destiny means she is, as she puts it, "at liberty" to tweak and re-arrange her catalogue of songs for a live setting.
"The audience is open to you trying different things too. Years ago, people would come to the show and expect to hear your material performed exactly the way they heard it verbatim from the album. We have revamped some of the songs, not to the point where you don't recognize them, but we have changed some of the back end – the drum beat and bass sounds. They have more of a modern edge. We are free to be more experimental than we ever have been before, and I think that makes it more interesting for the audience," she said.
Aaron said she is heartened and encouraged by the wide demographic variance of attendees of her shows, which can only be interpreted as a validation that her music is still relevant and powerful.
"Nowadays I am finding my shows, especially my all-ages shows, have become more multi-generational. I was playing the PNE [Pacific National Exhibition] this summer, which is the big exhibition out here in Western Canada, and as clear as day right in front of me there was a dad with one little daughter on his shoulders and granddad with another little girl on his shoulders. It must have been a spread from age three to age 63," she said.
"And I have fans in their 40s and 50s and they have 18 or 19 year old kids and are bringing them to the casino shows. I am finding that there seems to be a new generation of kids that are discovering classic rock and really latching onto this music that was actually played by real players and written by people that had a good grasp on the songwriting craft from earlier eras. It's freaky to me that so many of these young people know all the words too, but I like it!"
With family being her most important priority, it's interesting to note her kids' almost blasé attitude to the fact that their mom is a bona fide rock star, with ardent admirers all around the world.
"When my daughter was in Grade 2 she said a boy in her class told her that his mom showed him this video and that 'it was you and there was this giant robot spider thing with laser beams.' And she was so excited and wanted to see it. So I realized she was talking about Metal Queen, but by age seven she had seen every Pixar and CG-type kids' movie out there. So I sat her down and put Metal Queen on YouTube and I think she lasted about 40 seconds on my lap. She turned around and said, 'that's it?' I said yes and she hopped off my lap and went to play with her Lego. Those early 1980s special effects just weren't interesting I guess," she said with a chuckle.
"Then at that same PNE show I mentioned before, it was all ages and there was a huge crowd of thousands of people. My daughter said she was impressed by how all the people reacted when I swung the microphone around and caught it. But she told me after a few songs it was too much so she went to the merch tent and helped our merch girl sell stuff because she found interacting with the people was more interesting that watching mom on stage.
"Their lives are pretty normal. To my kids I am the lady who sometimes makes Kraft Dinner and does Yorkshire Pudding on Sundays. I don't want to change that."
Originally from Eastern Ontario and with family still living in that part of the province, Aaron said she is looking forward to getting back to the region for her Oshawa and Kingston shows.
"It's been a long time, like 14 years or so since I have been to Kingston. I think I did a jazz show there around 2001, so I will be great to be back. And I know Oshawa is a great town for live music, as is Hamilton where I am also playing. I look forward to every trip back that way, as I also get a chance to see my family," she said.
Aaron was adamant that she would never want to upset her happy home life unless there was a really good reason, such as the new album becoming a massive success.
"I have made it absolutely clear to the label that I will continue to only do isolated pockets of dates. If the album response merited something bigger I would have to be in a position where I would be able to take my family with me and bring and tutor and nanny out on the road. That's the only way I would even consider long tours again," she said, adding that she wants to continue to make and perform music and also pass on her musical knowledge to Angella and Jett.
"I know that as long as I am able to create, I will. In terms of the longer term and the success of this album and other projects, it's not really in my hands. It's up to the fans and up to the strength of the music itself. One of the legacies I want to give to my children is to teach them how to use recording equipment and software so they will be able to create too. I want them to have the ability to do the same thing as I do."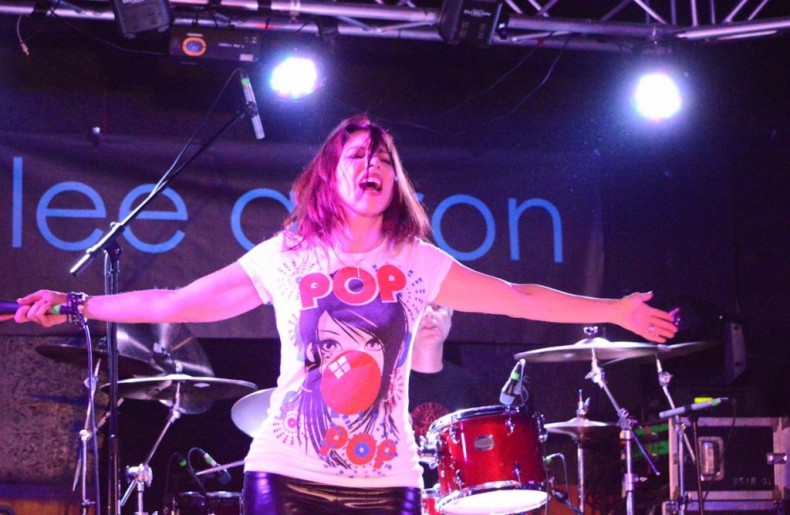 © Copyright MusicLifeMagazine