Questions:
1-Where are you right now? How's the weather und what are you doing?
I'm sitting in front of my computer and its one AM in the morning. It's dark outside and cold. I am thinking about how much I miss sleep these days.
2-The funniest thing ever happened during a show?
Once we were playing a show in Belgium and the theatre was very old. The dressing room was in the basement of the venue and it was a series of winding hallways and small storage rooms. We heard our intro tape start and set off toward the stage. Only, none of us could agree on which way the stage was. We got completely lost in this underground maze. They had to stop the intro tape because, well, the BAND WAS LOST in the building. Thankfully, a crew guy finally found us and we re-started the intro. I was escorted to the stage – which was pitch black – tripped, and knocked over John Albani's entire Marshall stack which knocked over his guitars and broke the headstock off his favorite Gibson. It was truly a Spinal Tap moment.
3-Who would play in your dream-band?
Charlie Watts, Jack White, Denis Wilson (on piano), Flo and Eddie on BGs, Adam Clayton on bass. I'm sure it would sound crazy. That's an impossible question really. You could put all of your favorite players in one band and they might sound just awful together. It's all about chemistry and you can't formulate that. T-Bone Burnett is about the only man in the universe who has that gift.
4-What was the worst practice room you ever had?
A small concrete room in the basement of an apartment complex in one of the worst neighborhoods in Vancouver. It was a storage room actually, and we entered from the underground parking garage.
There were dumpsters nearby with garbage and rats and it smelled disqusting. There was also no heat, ventilation, or windows. It was priceless.
5-Were there ever a woman / a man who told you: me or the music?
Actually no. I've never had a serious relationship with anyone who wasn't a musician and understood. I'm married to one right now. If I ever dated anyone who thought music wasn't a notable profession, it never went very far.
6-In October 2009 you released a 3-DVD-set with rare material. What can you tell our readers about it and how's the feedback since then?
People seem thrilled so far. It's comprised of rare footage from my personal collection. The tapes sat collecting dust in my basement for years. And, it was put together by me and not a record label.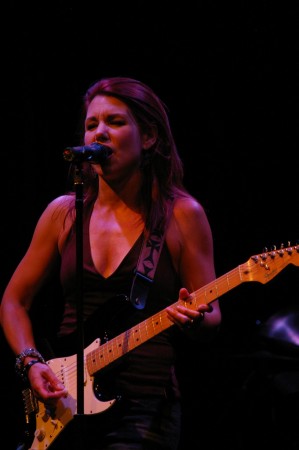 7-What are your plans for 2010? Will you play some shows in Germany? Any other release(s) this year?
I have just upgraded my studio and definitely plan to do some recording this year. Having my 2 children very close together understandably creates a bit of a career slowdown. I have a CD in works but realistically it won't be out until 2011. I would play Germany in a heartbeat. It would require the interest of the right promoter.
8-Against which thing(s) you revolt but seems laughable nowadays?
I used to think that if you deviated from the church of 'hard rock' you were a traitor. Too funny. I also thought I was rebelling against a female sexist stereotype, but I was really just a leather clad version of it. I wanted to be the exact opposite of my mother (who is quite conservative) and now I see how many great qualities she has.
9-What kind of woman are you? How would you describe yourself?
A kind, strong, funny, smart, obsessive and neurotic girl. I am also a perfectionist. I like to work hard. I like to laugh. I like to make my kids laugh. I'm perpetually optimistic.
10-Do you believe that your life and anything else is predetermined?
Absolutely. Einstein would have made a lousy singer and I would make a lousy scientist. Life would make no sense at all if everything was just a series of random events. My life would make no sense. We grow into people with a purpose through times of adversity not complacency. The worst situations often birth something absolutely beautiful and restored. In hindsight, I can feel a lot better about my screw ups knowing it was helping to create the wife, mother and artist I am today.