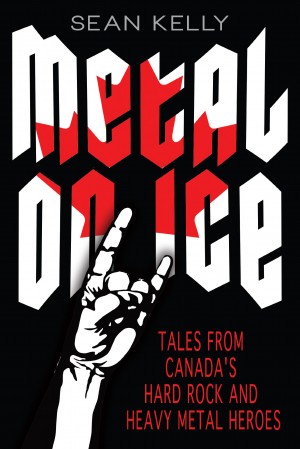 Q: What influenced you to join a hard rock/heavy metal band? Was heavy metal or hard rock the music you envisioned yourself performing?
Lee: No, I never really set out to be in a hard rock band at all. My background is musical theatre, and I spent most of my years as a youth singing old Broadway standards: Gershwin, Rodgers and Hart, the tin pan alley repertoire. I was spotted singing in a production, and asked to audition for a local rock band when I was barely 15 years old. I was asked to join the band 'Lee Aaron' and the next thing I knew I was singing Led Zeppelin … not that that's a bad thing.
Q: Did you notice a difference in the treatment you received from a) male musicians and b) audiences because of your gender? Do you feel you had a different touring experience than your male band mates?
Lee: Absolutely. Back then, many male musicians and industry types just dismissed input from a girl. It was a foreign concept in the alpha-male world of hard rock. I had to fight for every scrap of respect in some instances. If you were attractive, it was almost harder, because that era in particular objectified women to the max. Everyone wanted to exploit beauty from a marketing perspective, but when it eclipsed the songwriting and the performance, I found it very difficult. Then you've established an idol worship scenario with your audience and that is not sustainable. In fact it's pretty lonely at times, because you cannot possibly live up to people's expectations.
Q: Who were some of your musical inspirations?
Lee: Heart. I got the Dreamboat Annie album when it came out in 1976 and spent the next 15 years trying to be half as cool as Ann and Nancy Wilson. Led Zeppelin. They fused metal and folk and blues together into something absolutely transcendent. Nina Simone. She had such a unique gifting on piano and singing. No one sounds like her.
Q: Do you think being a female in a hard rock/heavy metal band in Canada made your career pursuits easier or more difficult?
Lee: Easier, in that I was one of the first women playing a more aggressive style of rock in Canada so it merited much attention. It was easy to get noticed. Harder, because Canadian radio wouldn't touch my first four albums, I couldn't get a decent opening slot and many people thought I was a novelty act. I spent a lot of time touring Europe. That said, I did have a few great supporters in the beginning like Keith Sharp (Music Express), Daniel Richler and J.D. Roberts from MuchMusic's The New Music.
Q: Did you ever feel pressure on the part of your management, record label, or band mates to conform to an image that you did not feel comfortable with?
Lee: Yes. It was an ongoing battle, yet, on an emotional level, I felt I had to give some merit to the fact that perhaps I couldn't see myself, image wise, objectively. Red spandex shorts however, were definitely a mistake I'd like to live down.
Q: Did you feel that audiences were more accepting of female fronted acts in Canada, or in other countries?
Lee: In Europe I was made to feel like a great rock artist who happened to be female. In Canada, I was a cute chick singing rock. People didn't even realize I wrote my own songs.
Q: What would you consider your career highlight(s)? Were these highlights satisfying enough to justify the efforts put into achieving them?
Lee: Getting my first gold record award in Canada meant something. Having Ray Danniels call to thank me personally for creating a hard rock category at the Junos, so Rush finally received one – that meant more than actually winning a Juno. Playing a concert on Mt. Kitzsteinhorn in the Austrian Alps was mind blowing to me when I was 23. I realize that some of these things are more special memories than highlights. I don't really equate any of them with effort. My first marriage fell apart somewhere along the way, but that probably would have happened anyway. It wasn't a price to pay. They're all part of the journey.
Q: Was getting signed to a recording contract important to you? If so, why?
Lee: Back then, yes, absolutely. It was the only way to break out on a larger scale – through their marketing channels and with their financial support. There was no virtual highway for networking back then. It was radio, touring and, if you were really lucky, front racked at Sam The Record Man.
Q: Do you think the geographical conditions and distance between cities in Canada has an affect on Canadian musicians?
Lee: Well, yes. I think there are distinct 'sounds' that have evolved in the east and the west and in the prairies. That is because of the fact that these regions are insular and divided by vast areas of plains, tundra and mountains. It gives us lots to write about. I think it makes us distinctly Canadian. It also makes us hardy….
Q: When touring abroad as a Canadian musician, did you ever feel you were perceived differently by other artists, or by the fans?
Lee: Yes. I was a breakout star in Europe long before breaking in Canada. I had sold over 100,000 records on a small indie label out of Belgium called Roadrunner. I remember returning after touring Europe with Bon Jovi, where I was playing soft-seaters, topping music magazine polls and being courted by Virgin Records – to driving across Canada with my Attic Records promo rep almost begging stations to play the new album and they just weren't interested.
Q: How have your earlier experiences as a musician shaped your current approach and views as a musician?
Lee: I've learned that less is more. Whenever I can't make sense of something, it usually means that something needs to be stripped away (musically).
Q: Were you able to enjoy your greatest commercial success in the moment you were experiencing it?
Lee: Yes and no. We toured for nearly 14 months straight on Bodyrock. It was exhausting and exhilarating. Being sought after and adored by the press and the multitude is quite flattering. However, it gives you a false sense of importance about yourself. I made great friends during that time and got to travel the world and experience different cultures. I had people tell me I was fantastic every day. You don't foresee it ending, ever, when you're young because you're naïve. People change, trends change, things move on, the media loves you one day and hates you the next. If you define your happiness in any way with being commercially successful you're in trouble.
Q: Can you discuss any collaborations with Canadian artists other than your bandmates? Was there a sense of camaraderie there?
Lee: I've done a few collaborations … Sons of Freedom, Helix, Myles Goodwyn (April Wine), Furnaceface, Jason Hook (Five Finger Death Punch), Santers, Moxy, Frank Soda … plus a bunch of US writers.
The Furnaceface song "The Ballad of Richard Iommi" was especially fun. These guys had written this song about an obsessed fan of mine who played in a Black Sabbath cover band. He camped out in hotel lobbies waiting for me, he accosted me at the back door of every Ottawa show. It eventually got quite scary and I was forced to personally give him the brush off, as every other encounter with my road crew and security had not deterred him. I think he was really crushed and I felt terrible. I had no idea it had become Ottawa rock folklore. Oh yes, and he believed he was the illegitimate son of Tony Iommi.
I sang a duet with Brian Vollmer (Helix) on a song called "Look me Straight In The Heart" in 1993. Musically things were shifting quite a bit with the advent of Nirvana and the whole grunge scene and I was already working on my next record collaborating with the Sons of Freedom. I was striving to move in a more modern direction. Then they (Helix) released it as a single and asked me to appear in the video as well. I bowed out gracefully thinking it might be at odds with the direction of my next record, and the timing etc. Well, I guess Brian was furious with me. Like, super mad. We've played together since and thankfully, he's gotten over it. We're still friends. Comrades even….
Q: Are there any traits that differentiate a Canadian audience from audiences abroad?
Lee: Ha ha … they are generally more reserved here.
Q: Do you feel your nationality helps define you as an artist?
Lee: Yes. Especially as a rock artist overseas. They love Canadian rock bands there and feel we have a unique Canadian sound. I wear that badge proudly.
– from Metal On Ice, a forthcoming book by Canadian guitarist Sean Kelly about the experiences of Canadian rock musicians. Watch for it in September!