Another Time, Another Place
Dave Reynolds
Originally published in Metal Forces, Issue 16 (1986)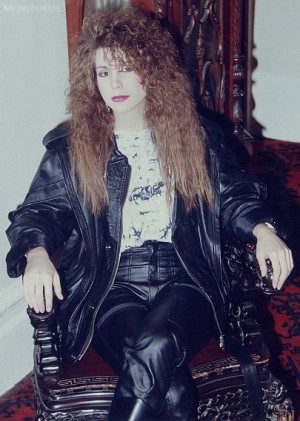 Whenever female metal stars are in line for a Metal Forces feature, it always seems to be yours truly who ends up interviewing them (not that I'm complaining!). In the past, I've had the pleasure of meeting Lita Ford, Maryann Scandiffio (Blacklace), Wendy O. Williams (Plasmatics), Doro Pesch (Warlock) and a couple of other metal women, and I hope many more to follow…. Betsy (Weiss, Bitch), Ann Wilson (Heart), Steffanie (Borges), Darby Mills (Headpins)… yes please.
I've interviewed Canadian songstress and self-styled Metal Queen Lee Aaron before. Cast your minds way back to our very first issue and you'll find the last instance Metal Forces crossed paths with the lady. Two years… no, now we're in '86… three years. A great deal has happened in that time and on this occasion I wasn't meeting her in some London Soho pub but in the rather posh surroundings of a certain hotel in Bayswater, which I always seem to be visiting in the cause of rock'n'roll.
Lee was late arriving back from a photo session that involved having to pose for around 28 rolls of film. And now she had to do an interview! Is there no rest for the wicked?
The Lee Aaron band were on a European tour, and London was obviously the showpiece date on the British leg. Despite a cold, the lady looked in good health and sported a particularly great hairdo which surely makes our own Kelv HairRazer envious beyond belief. What's more, it's all her own Kelv!
Anyway, with the release of her third album, Call Of The Wild, a few months ago it was only natural that we should begin the conversation discussing the subject. Over to you, Lee.
"There's a couple of songs that aren't really my favourites on the record. Bob Ezrin was a very big influence on it, he's very orientated towards commercial American radio, that's why tracks like 'Burnin' Love' are on the record. I actually didn't mind that tune too much in the beginning because we originally beefed it up and made it sound really chunky.
"My attitude towards rock'n'roll is not in this death'n'die metal area, because I don't want kids going home from my concerts wanting to slaughter their baby sister. I want people to go away and say 'Wow! I had a great time at the Lee Aaron show'. We don't take ourselves as seriously as a lot of bands like that do. We go up on stage to have fun.
"But anyway, we were talking about 'Burnin' Love'. It was given to us by the people at the record company (the original can be found on the US version of Spider's 1980 debut album and was also covered by Kix on 1983's Cool Kids) because I'm always open to suggestions for outside material. So we recorded it and it sounded really good. So we left Canada to come over here to do the Bon Jovi tour and Bob Ezrin was left to do the final mixes. While we were gone he added an organ, a tambourine and a black backing singer. When I heard the final mix copy it wasn't exactly what I had in mind!"
A lot of people I know reckon the production on the whole record isn't up to scratch and it's Paul Gross who 'destroyed' the record's sound. "Despite what the back of the album says, Paul didn't really produce that album. Bob Ezrin produced it. Y'see, they originally got together to do a co-production, but when Mr. Ezrin gets involved in something, he likes to control the entire project, which is how it went in the end." (Something guitarist Ace Frehley knows only too well. Remember Kiss' The Elder album from 1981?)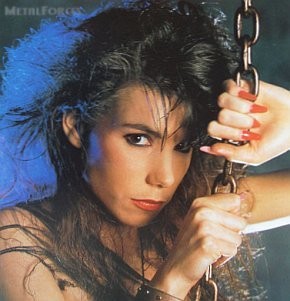 "Paul Gross had an accident just before the final mixes, he was out for about four weeks, so Bob Ezrin did them all on his own. 'Barely Holdin' On' (a cover of the Silver Condor song) was his pet track though, that's why it says on the back of the record that he totally produced that track. I don't really wanna say anything negative about Bob though because working with him was a good experience for me. He's a very intelligent guy, he's been around a long time, but he's got a very distinctive production style. The sound he got was a very raw, sort of live sound. Our original plan was to go for a more produced sound like Metal Queen (1984), which was digital. With all the latest gadgets available to producers these days, why not use them, y'know? Had we not been on tour at the time of the mixing then the final product would've been quite different."
Still, in my opinion, I don't think it's that bad an album. Lee's voice sounds stronger than ever and the songs, in particular 'Evil Came' and 'Beat 'Em Up', were the best she's done since the first album in 1982 (I'm not much of a Metal Queen fan. There's something I don't like about that record).
For the next album, Lee is demanding co-production. "I'm never gonna have a piece of product I'm totally happy with unless I get my foot in the door. I'm insisting that myself and my guitarist and co-writer John Albani should be involved in co-production."
John Albani is the only permanent member of the Lee Aaron band it seems. "It's funny. A lot of people must think I'm really difficult to work with, because I have different players all the time. But I'm really probably the easiest person in the world to work with. Being the front person of the band and especially a female – everybody's got an ego and I've just had problems dealing with those. It's just different things that come up. At the beginning of this year I was working with Chris Brockway (bass; ex-Hanover Fist), John Albani, Kim Hunt (drums; ex-Zon, Urgent and Hanover Fist) and a fella named Simon Brierley (guitar), who was a session player we picked up at Phase One Studios in Toronto. Now Kim went out for the first tour in the spring and when he came back home he got asked to join a band with Doug Baynham and a couple of other friends of his called Mark Four. He felt obligated to join all his old buddy's from way back, so he left. I'm not angry, because we now have a better drummer in Barry Connors who used to be in Coney Hatch and Toronto.
"Simon had always been funded by this guy who owns Phase One and he kinda put the pressure on him to go and do this solo project, so it was just one of those situations. I try not to let the line-up changes bother me because I still manage to progress and move on, perhaps not at the speed I'd like to be doing, but I've never been anxious to be famous overnight, because overnight sensations never seem to last too long anyway. Each record seems to get a bit better and I think the songwriting on the last record was a lot better than on Metal Queen."
You've just entered the video market with a live concert video. What do you think of that? "It was fun to do that. The only thing that is a little bit bothersome is that over here in Britain everything is unionized. You can't exactly get your hands behind the mixing console and do it yourself, which I think every band should have the right to do. I don't know the guy in the truck putting it to tape. They never see it how you do, they don't know your material, when the solos are and stuff like that. That's why I think every band should have the right to mix their live stuff. I think the live video sounds better than a lot of live stuff I've heard, but I'm still not happy with it. I'm a perfectionist!" We both laugh.
"We had a problem a little while ago when we played this show in Austria, and they recorded that live and we specifically told the guy in the truck that John plays in stereo, he has two speakers that are in stereo on stage. We've gotta have two mikes brought down two channels so we'd have the stereo effect. So they go and put two mikes on a Y-jack and ran it down one channel, so we ended up with a phasing problem and the guitar sounded like shit! So when we heard the final mix we refused to let it go out, so we had to go into a studio to fix it ourselves."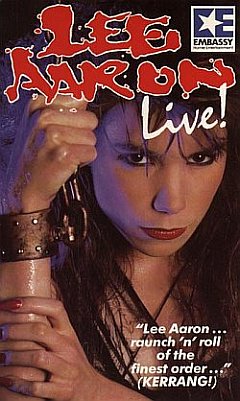 Lee and band were filmed at the London show in the Dominion Theatre by Trillion Pictures and have been allowed to mix it themselves, so she should be 99% happy with that. The video that is currently on sale in Europe (1985's Lee Aaron Live!) was also filmed in London, but that was at the infamous poser's paradise Camden Palace.
Britain seems to be like a second home to Lee Aaron. "Oh yeah, I love it! I played in Canada for so many years that I'm really anxious to break the market over here and in Europe. We've sold so many albums in Germany and we're headlining anywhere from 1,000 to 5,000 seat arenas, which isn't too bad. This last year has gone pretty well. We recorded Call Of The Wild in the spring and finished it by April. In May and June we went on tour in Europe with Bon Jovi, also doing some of our own dates. In July we went back to Canada then came over to Europe again to do two festivals at Lorelei and Freiburg, West Germany in August. We went back to Canada again to do about 14 more shows in Southern Ontario, this time with Kim Mitchell. I love him, I've loved him ever since he was in Max Webster (yeah, a great band!). Then we took all of October off to do some writing and pre-production for a new album."
Now the rest of '85 was accounted for with another European tour with German act Talon as support, with Lee and company not going home until the 23rd December. Such is a rock'n'roll life, eh?
By now, the all elusive major deal should've been announced with Virgin and 10 Records and a new album should be on the cards very soon. Now Lee Aaron can begin to show the talent she really does possess and not just come across as all hype, as she was circa Metal Queen, where the 'glossy rock doll' tag appeared. That can now be cast off into the wind, but while Lee stands tall – well, as tall as her petite figure will allow amongst the female metal crowd – doubts have been cast about the wooden stage presence of her band. If anybody saw them at the Dominion show you'd know what I mean.
The trouble is, because Lee is the 'name' in the show, the obvious focal point is of course Lee herself and it is unfair for her to carry the weight of the whole show on her shoulders which band members could help with. Look at New York's Blacklace for example. Not only do you have a gorgeous front lady but you also see a flashy drummer, wild bass player and an exciting (though admittedly quiet natured) guitarist. That's what the Lee Aaron band should be like and I think will be like in 1986. You just wait and see.
© Copyright 1986 Metal Forces