Lee Aaron
Ruth Schweitzer
September 2005
---
Lee Aaron performs at this year's Women's Blues Revue, along with Salome Bey, Shakura S'Aida, Roxanne Potvin, Suzie McNeil and Dione Taylor, at Massey Hall on Nov. 26. Aaron spent some 10 years, from the early 1980s to the early '90s, as a rock singer and became known as Canada's heavy metal queen. She recorded 10 albums, sold more than a million records and toured around the world. Aaron began singing jazz and blues in the mid-'90s while continuing to perform rock shows, and by the year 2000 she had established a new fan base and was singing jazz, blues and jazz-and-blues-influenced pop exclusively.
When Lee Aaron steps out to sing in this year's Women's Blues Revue at Massey Hall, it won't be her first time onstage at the venerable hall.
Aaron performed at the hall in the early 1990s, when she was Canada's reigning heavy metal queen. "I was the 'it' girl of Much Music at the time," she recalls. "I'm delighted to go back and do something different." She now sings jazz, blues and jazz-and-blues-influenced pop.
Aaron spent some 10 years, from the early '80s to the early '90s, as a rock singer. She recorded 10 albums, sold more than a million records and toured around the world – all while she was in her 20s. She was nominated for eight Juno awards and won the CMPA Songwriters Award, a Much Music Video Award, three Toronto Music Awards and an Ampex Golden Reel Award. She was also on the cover of TV Guide, Melody Maker and Sounds, and topped dozens of music polls.
So what made her leave and undertake a career transformation? It's not that she wasn't having a good time. "It was the greatest experience – travelling around the world, meeting people and going to different countries," she says.
What took Aaron off the rock merry-go-round was the change in the music business that brought grunge into the forefront in the early '90s. "Corporate rock was pretty much displaced at that point. Anyone who fell into that category was displaced," she says.
"I made a couple more records and while they were critically well received, I had a hard time getting the industry to push them. They were into the next big thing."
Aaron took a year off to think about what to do next and came to the conclusion that she would continue in music only if she did something she loved – and she loves jazz and blues. She got her feet wet slowly and, in 1996, began singing jazz while still performing rock shows.
"My first few shows, I had a few leather-clad, burly types walk out," she recalls. But as time progressed, former Lee Aaron fans whose musical tastes had changed came back and she established a new fan base of people who had no recollection of her as Lee Aaron, heavy metal queen.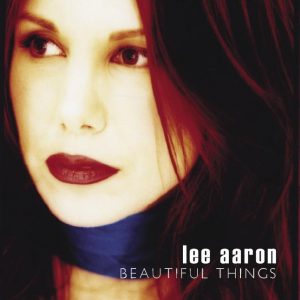 By 2000, she had stopped performing rock entirely. Her well-received jazz CD, Slick Chick, was released that year. The Globe and Mail said: "Lee Aaron has pulled off one of the biggest musical transformations… while it may be hard for some to believe that Aaron could tread so confidently in so many jazzy sub genres, the fact is, she did." In 2004, another recording, Beautiful Things, drew rave reviews, including this one from Billboard magazine's Larry Leblanc: "Beautiful Things features Lee Aaron producing music of rare beauty that not only captures the power, range and sensitivity of her invincible voice but successful melds her rock, blues and jazz influences."
Beautiful Things includes eight originals songs that Aaron penned with her co-writer Joel Kroeker, out of a total of 12 tracks. Back in her metal-queen days, she and her band were under pressure to write 50 songs for each new recording, and then only 12 out of the 50 would be used. As a songwriter, Aaron doesn't miss that kind of pressure.
These days her songs are born on the hand-held recorder that is always at her side. "An idea will pop into my head – more often it's a melody accompanied by a lyric. I sing it into the recorder, then play it on piano, write it down and give it to a professional piano player to play. If I'm writing with a co-writer, I bring in melody or lyric and work with them to find backing chords," she says.
Her lyrics, she adds, come out of "the process of life, growing and evolving. The human condition just fascinates me – what makes people tick and why they make the choices they make. I've made a few clunkers, but they've brought me where I am today."
Today, Aaron lives in White Rock, B.C., with her husband, John Cody, and her daughter, Angella, born in June 2004. With her second child on the way, Aaron will be seven months' pregnant when she sings at the Women's Blues Revue on Nov. 26.
On having a child, Aaron says: "Your whole perspective on life changes. Your priorities get put in order immediately. Being attractive, famous and popular is not at the top of my list anymore."
Before Angella was born, Aaron hoped to maintain her performing and touring schedule, and take Angella with her everywhere, but once she discovered the realities of caring for an infant, she realized that she would have to cut back on her professional schedule. Now, she's doing concert and festival shows and choosing shows that are "important and I want to do," such as the Women's Blues Revue.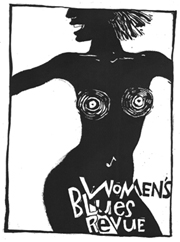 Aaron, who has performed at two previous blues revues, says one of the aspects of the WBR she enjoys is that it is "a sisterhood of women who love their instruments, who love their music. Everyone wants to do their best to lift up the woman next to them."
In the near future, Aaron will release a new CD, which she is working on in her home studio. "It's fun to record in my home and work with music software, just to have the freedom not to have a clock ticking in a studio."
The new CD will be along the same lines as Beautiful Things, she says. "I'm a pop writer – that's what I'm good at. I love jazz and blues. I can take those influences and incorporate them in my writing. It comes out as a pop tune with jazz and blues overtones."
Does Aaron miss her days as a rock singer? Not a bit. In fact, she's glad to be doing something else, she stresses. "I'm really happy to not be part of that at this stage of my life and career." She adds that she doesn't approve of the values that are imparted to young girls by society in general and through the entertainment industry. "I don't want to be part of the machine that's pushing that," she says.
© Copyright 2005 Toronto Blues Society