Three-Volume Anthology Hoped to Quell Fans
Roxanne Hooper
July 24, 2009
Former metal queen Lee Aaron has spent almost every other evening over the past six months watching endless footage of herself. Once she and her archivist husband John Cody tuck their two young children into bed in their South Surrey home, they almost religiously hunker down to watch, select, and edit reams of video being turned into an Aaron anthology.
"Sometimes it was torture… watching me, me, and more me," said the petite reddish-haired, somewhat-tamed rocker. Now Aaron's career has spanned more than a quarter century, and the anthology she's working on – between juggling stage work, preschool classes, and dance recitals – compiles a lengthy collection of personal concert footage, rare interviews, in-studio clips, behind the scenes shenanigans, and even a few music videos that never made it into the mainstream, Aaron told the Langley Advance Tuesday, on her 47th birthday.
The final result will be three 90-minute volumes of her life in anthology she's calling Lee Aaron Archives: Rarities 1981-2008, which is due to be released by mid-August. The much more grounded, mother-of-two hopes this anthology will satisfy her fans' appetite for a few years – giving her what she describes as invaluable time with her children during their most formative years.
"I'm enjoying them so much right now," Aaron said, admitting she thought about going back into the studio to cut another album but opted to hold off a few years – at least – because of the kids. Writing, recording and editing a CD, not to mention the necessary promotional tours that must follow, was going to pull Aaron away too much from her three-and-a-half-year-old son Jett, and her five-year-old daughter Angella.
"My children are only going to be this little once," she said, anxious to spend as much time as possible with them now rather than farming them out to a nanny. Fans will have to be content with the anthology and her last CD, Beautiful Things (2004), which kept the jazz touch but drew on her rock and blues roots, mixing traditional and contemporary grooves in a way that resulted in some astonishing – and what she calls sophisticated – sound.
During the 1980s and early '90s, rock fans across the continent got to know this Ontario-born musician and singer. Aaron was catapulted to icon status in the hard rock world with hits such as Metal Queen, Whatcha Do to My Body, and Sex with Love.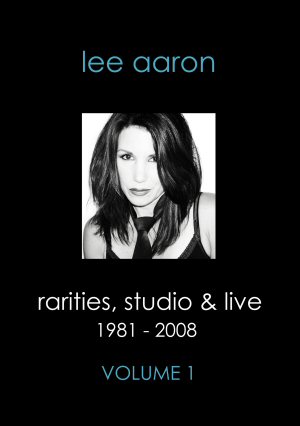 Between 1984 and 1992, she toured almost non-stop, including European stops and appearances in Japan and the U.S. Not bad for the young woman, born Karen Lynn Greening, who begrudgingly started playing piano at a young age, started singing in school musicals at age five, and was discovered in a production of Babes in Arms at the age of 15. That's when she was asked to join a local rock band called Lee Aaron, as a keyboardist and back-up vocalist. She ended up as the main singer and later adopted the band's name as her own.
That was just for starters. She took over rock and roll, and drove the boys and girls of the MTV/Muchmusic generation totally bonkers. But frustrated by perceptions that she was a one-dimensional "rock chick," Aaron stepped back from the metal scene and the entire music industry for a few years, re-emerged in 1997 performing cool jazz and blues in more intimate club settings on the West Coast.
Over the course of her career thus far, Aaron has been nominated for eight Juno Awards, a Much Music Video Award, three Toronto Music Awards, and an Ampex Golden Reel Award. Today, this incredibly versatile artist said she once again loves walking out on stage to perform – bringing a mix of both her old rock hits and some of her more contemporary jazz to an eclectic and faithful fanbase.
Sure, she's gone from performing 250 shows a year down to an average of 20. But that's okay with her.
"After having children, I decided to scale back the amount of work I'd do on the road," Aaron explained. "I love music, and I will always love music. But I love being a mother more… my priority is being a parent." In fact, she's content for now to stick primarily to the casino and festival's circuit, which will include a return engagement in Langley next Friday, July 31 at Cascade Casino's Summit Theatre.
Aaron is an accomplished songwriter, a great vocalist, and a real treat for the ears, said show promoter Rob Warwick of Rock.It Boy Entertainment.
"Lee Aaron blew everybody's minds when she once again cracked her career stereotype and returned as a jazz vocalist with the album Slick Chick in 2000, and totally reinforced the new direction with her 2004 release Beautiful Things," Warwick said. "She has done it all, but she's not done yet."
He's delighted to add her to the bill, noting she continues to enjoy a strong and faithful following. Aaron performed a double-bill at Cascades last year, sharing the limelight with Prism. This time out, she's doing a 90-minute set that she describes as a comprehensive concert including everything over the past 25 years, including her rock hits, pop and jazz.
"It's a real fun show," she said. "I've never had a Lee Aaron fan go home disappointed." She's sharing the stage next Friday with Doucette, a band featuring the big man Jerry Doucette – dubbed one of Canada's great guitar men.
Doucette gave us the rollicking guitar classic Mama Let Him Play in 1977, from the album of the same name – the song that ruled the FM airwaves as a flagship for freedom, independence and the right to party your face off eloquently framed with one of the great guitar solos of the time, Warwick said.
This show runs Friday, July 31. Doors open at 7 p.m., with the show starting at 8 p.m. Tickets are $32.50 in advance from the casino guest services, or at the door. For more information on Aaron, attend the concert, visit her website at: www.leeaaron.com – where her new anthology is expected to be released first – or catch her on www.myspace.com/leeaaronmusic.
© Copyright Langley Advance