The first question and answer have been deleted by request.
2) Did Bon Jovi open for you at the El Mo or did you open for them?
I played so many shows with so many different artists, I honestly can't recall. I hope I opened, otherwise I have missed the opportunity to milk that story for years.
3) The Whole Metal Queen image, was you comfortable with this personna.
In the mid-eighties, yes, definitely. I loved the idea of empowering women by creating this mythological, goddess-like character for the video. I had no idea it would have such an impact. Twenty five years and 10 albums later – many of which were infinitely bigger sellers – the press still refer to me as the 'Metal Queen.' It's funny what people just won't let go of. I have written far better songs and made far better wardrobe choices since then, thank you.
4) English exposure, the role of Kerrang, when did you play at the Reading Festival. How popular was you in Europe. Did you have proper product distribution.
I somehow managed to catch the attention of a British writer named Paul Sutter, who wrote for Kerrang magazine. He ran a 2 page full color poster and feature article on me on my debut album, which was only available as an import in one little record shop in London. My first performance in London was at the Marquee Club using a back-up band called 'Sam Thunder' from Manchester. I couldn't afford to fly my own band over, but scraped together the money to get over there myself. We had a total of about 8 hours of rehearsal before the show. I'll never forget: the British media said that I was 'flat and flaccid' compared to my promo shots, but that they were astonished by the 'powerhouse vocals.' I took great heart in that. We were invited back to play at Reading later that year, 1984, just before Metal Queen was released. I remember we were still so broke we were all sleeping on floor in Paul Sutter's flat. Between the Marquee performance and Reading I became a darling of the British media for a few years. They love an underdog, and here I was, this woman struggling in a testosterone fueled genre of music to get taken seriously. I returned home to write and record 'Call of the Wild' and ended up working with producer Bob Ezrin. He was producing a project in the adjacent studio to us at the time, and when our producer Paul Gross sustained a bad racket ball injury, he entered into dialogue with Attic Records to produce us. I ended up getting distribution out of Belgium on (then) indie Roadrunner Records. In the spring of 1985 I spent 6 weeks opening for Bon Jovi across Europe, and our sales were so strong we returned to headline those same venues in the fall that same year. That led to a deal with Virgin/10 Records and working with Peter Coleman for the next release. By then, I was topping all these Euro magazine polls and our audience over there was totally solid. It was an exhilarating time. Especially when you're young.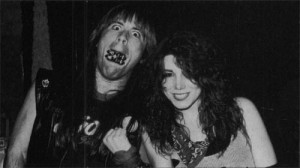 5) Rod Smallwood, manager of Iron Maiden once told me that his management company wanted to sign you and bring you to England. Bruce Dickinson actually sang with you at L'Amour nightclub in Brooklyn. I was told by Rod that you turned down their offer because they only wanted you and not the rest of your band. Is this true?. Did Rod actually talk to you or did he talk directly to Steve Propas?
I'm quite sure I was still managed by [someone else] at that time, and of course, I remember the night at L'Amour. Iron Maiden were mastering 'Powerslave' at the time in New York. They knew of me – with all the British press – so they came by the club. It was a magical night. We jammed and talked for hours. Intelligent guys.
I never personally had a conversation with Rod Smallwood that I can recall. Although, many times throughout my career I had similar proposals to 'fire' my entire band and enter into partnership with a bigwig (Ed Leffler and Don Arden, to name a couple) with promises to catapult me to mega-star status. The dynamics of being a woman in the music biz in the eighties was a lot different than it is now. Being a huge star meant making personal compromises that I was not prepared to make. I made enough in the beginning of my career.
6) Feelings about Attic, did they help or hinder your career.
As with every label there were staff that were absolutely passionate about music, knew music, and cared about the artists and their work. There were also the guys that had no clue about music, but had power and plenty of ideas about how things should be done.
I think that Attic did their best. They were not a major label, but a large independent, so they were a bit disadvantaged in the music biz hierarchy, and that wasn't their fault. They owned my worldwide distribution rights, yet US distribution was never successfully negotiated despite ongoing interest. Between cross collateralization and overcall albums and many 'in perpetuity' clauses I never saw a royalty. Seriously. I'm aware that my story is a very common story. Boo Hoo. Oh well. Life's too short. I now have 2 amazing children, a husband, beautiful home, and I still get to make music on my terms. How amazing is that.