Alberta is like another planet. In the winter anyway. Vast, flat, dry, tundra-like expanses speckled with the odd massive Quonset hut, painted white and protruding like a lost can of space soup that fell out of a passing alien ship. And cows. Lots of cows. Grazing peacefully in the sub zero weather with no inkling whatsoever of their final destination.
We flew into Calgary and had to drive to our first show – a town five minutes from Medicine Hat. At one point we were collectively seeking a rest area/pee stop. Too little sleep and too much Starbucks. I snapped a few photos of the band and then thought it would be cool to get a band shot that included me, so I used the auto timer setting. We waited… and waited. Stupid thing didn't work. So, there we were, standing around in the freezing cold in front of a couple of outhouses, with perma-smiles, and nothing was happening. I imagine to the aliens we looked a lot like those cows.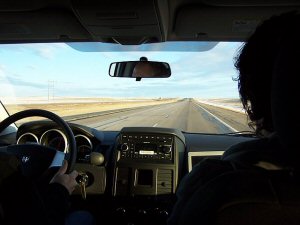 Okay – so I had steak two nights in a row. And a bison burger. I rarely eat red meat but when in Alberta… I'm gambling that k.d. lang will never read this blog. Her lighting tech once told me that she wouldn't even let her crew have pepperoni on their pizza. Geez…
Redcliff, Alberta was smallish and barren – almost like a western ghost town – and looked as though it hadn't been touched by modernism in a great long while. I liked it. I liked it a lot. But I like places like that, and the people that you meet there. The hall looked like a local legion. In fact, I think it was the local legion. A buck's head (no, not just antlers, the WHOLE HEAD!) was mounted on the wall directly across from the stage and flannel banners of recognition decorated the walls. Loads of paneling. Orange shag carpet and a mirrored bar were the ultra rad decor in our dressing room. Mike Myers, eat your heart out.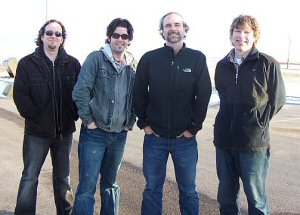 I wandered back upstairs for sound check and a sweet elderly woman named May burst excitedly from the kitchen to meet me and shake my hand. She didn't know my music at all, but liked my picture on the tour poster. Obviously, she had never seen me at 8 am with no make-up and track pants. It reminded me of how my Nan (a pure heart from the island of Newfoundland) used to devour tabloids like they were gospel, simply because she was so taken with the idea of glamour. Cooking mess in the Newfie outback for a camp of smelly lumberjacks left a lot of room to dream, I suppose.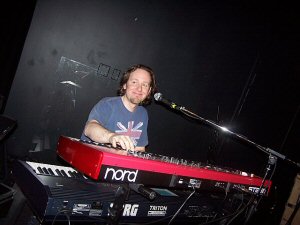 May offered me a mug of beer and a hot dog with sauerkraut. Almost insisted. I felt bad declining, like I was turning down her best butter tarts or something. Someone mentioned it was indeed, The German Harmony Hall. Now it all made sense.
The show turned out awesome, except for the fact our keyboard player, Tilden, was stuck behind a giant pillar all night (also made of paneling). He'd pop his head out occasionally to let us know he was still grooving. And once or twice I looked up and accidentally made eye contact with DEAD BAMBI HEAD … funny how little things like that can throw you off a bit…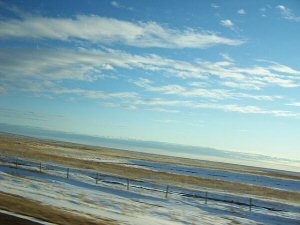 I did meet some great local folks. Front row centre were three guys named Ozzie, D-rail and Corey. I'm certain Corey had a code name as well, like Captain Underpants or something, but choked when I put him on the spot during the show. Ozzie offered to be my human music stand and held up some brand new song lyrics for me so I could read them. I got to talk with them all in person after the show. Ozzie turned out to be a swell guy as well as a great sport.
May, I later discovered, was the promoter's mom. I met his wife and son, and a few other relatives. I just loved the fact it was a total family affair bringing us to their town to play. Hospitality and graciousness overflowed … I can't say enough nice things.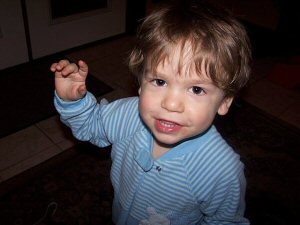 Well … need to sign out for tonight. Our son is teething and kicking the side of his crib incessantly. He can moan "Mama mama mama mama mama mama mama…" for minutes at a time, seemingly without taking a breath. It's a talent he has. He's practicing to be a great blues singer I tell myself, even though I'm totally exhausted. The only thing that seems to comfort him is children's Motrin and the Thomas the Tank Engine theme song. Sung by me. Over and over and over again. "Thomas the Tank Engine rolling along…" (take twenty nine…)
Some nights, even sleeping on the tour bus doesn't seem so bad.