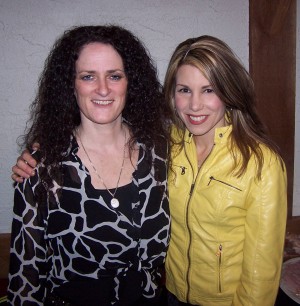 2010 marks the 30th anniversary of the Headpins. Wow! How time flies.
What a fine singer and lady. I remember when I was just starting out, Darby was already a well established female Canadian rocker on her 2nd album.
She and I were booked on an outdoor show together in Kitchener, Ontario called 'Lock Up Your Sons.' My band had played the night before at a club between Montreal and Quebec City and had to be on stage the next day in the mid-afternoon. Ah yes – the glamorous Rock and Roll lifestyle.
I remember trying to catch a few zzzz's on a sleeping bag on the floor of our old cargo van with equipment rattling around and the crappy old transmission humming like a chainsaw. I was terrified that I would finally get a chance to share the stage with Darby Mills and my voice would pack it in. She was like this icon, you know?
The show ended up coming off just fine, but I never got to meet Darby that day. She was surrounded by 'her people' and I was just a nobody chick singer starting out.
A decade later, in the nineties, we ended up touring together. Fun times.
These days we end up on a show together about once a year. We talk about our kids mostly. Hers are teenagers now – mine are little. She's got some hysterical stories and some great parenting advice. She tells this story on stage about, how, when her son was about 10, she had left to work 'on the road' for a few days while the boys stayed behind with daddy. One of his teachers inquired 'where' his mom was and apparently he responded "My mom is working on the street." Nice.
Happy birthday Darby!