Lee Aaron
Fire And Gasoline
Available March 25!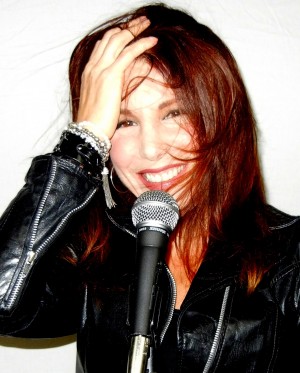 Relationships – especially the important ones – are by their very nature combustible. Friends, lovers, collaborators, wherever there is emotion, intimacy, and a real connection, possibilities for explosive desire, explosive joy or explosive anger exist. The title track from the hotly-anticipated new album from legendary Canadian songstress Lee Aaron, Fire and Gasoline, captures the essence of the fiery nature of human relationships in a way that is captivating, powerful and with the unmistakable rock 'n' roll flourish that has made Aaron a household name and part of this nation's musical firmament.
The album, which will be released in March on her Big Sister Records (with world-wide distribution through ILS/Caroline), is a new benchmark for an artist in complete control of her creative faculties. She is excited with the result of her labours. "My attitude from the very beginning was that I would just let the creative process flow. There was no conscious planning and no parameters. I wanted to make music because I love making music," said Aaron, who has lived on the west coast for the past 20 years. "I wanted to make a record that was completely unfiltered. No one imposing any boundaries, and I imposed none on myself."
As a collection of new music, Fire and Gasoline is unmistakably Lee Aaron. The powerful, evocative, deeply resonant voice is still in the fore, but it's now tinged with the gravitas and tenor that comes from the spirit of a more seasoned and thoughtful songwriter and performer. It marks Aaron's first album since 2004's jazz-infused Beautiful Things and her first true rock album since 1996's 2preciious. Aaron's music has been the soundtrack for millions of fans around the world since her debut, The Lee Aaron Project, was released in 1982. The same catchy vocal and melodic hooks remain, as does her remarkable ability to convey a gamut of emotions over the course of an album – from raucous to reflective, from playful to breathtakingly sad.
What is different about Fire and Gasoline is that these 11 songs are crafted by an artist who has lived an authentic life – one filled with everything from the grating depths of sorrow to the euphoric heights of love and happiness. They are songs that exemplify an artist who is in touch with her past, present and future and who is unafraid to delve into the misjudgements of youth to mine the wisdom and lessons of her life today. There is a touch of contemplation and insight throughout every word and note. "The song "Bittersweet" is definitely a break-up song, but it's reflecting back on a break up that happened many years ago and the tough lesson learned. "Fire and Gasoline" explores the crazy nature of passion and how it can keep us attracted to something we know full well is destructive, yet keep us hanging on to it," she said.
When asked to describe the Lee Aaron 'brand' she says this: "My goal is always to create songs that are singable and relatable, as well as edgy. Even when I was writing jazz songs or pop-metal material, they came from the same place. But that's not something you can manufacture. The inspirations have to come from an authentic place and those are usually experiences that most people can identify with. For me, those are the hallmarks of a good song."
Lee Aaron's musical pedigree is highlighted by 12 albums that range from her breakout sophomore release, Metal Queen in 1984, through to the stratospheric commercial and critical success of the anthemic pop-metal of 1989's Bodyrock and 1991's Some Girls Do through the experimental alt-rock stylings of Emotional Rain, released in 1994, and her later jazz albums. Along the journey, Aaron has courageously followed her creative muse wherever it has lead, holding firm to her artistic integrity, which has allowed her to build and maintain a remarkably loyal fan base, even through her years of relative inactivity.
For the past decade Aaron has spent much of her time focussed on her young family. But music was never far from her mind, as she continued to noodle around in her home recording studio. She re-entered the rock 'n' roll scene a few short years ago, playing a number of festival shows and realized there was still a huge appetite for her brand of sophisticated, melodic rock music and impressive back catalogue.
"I always knew I was going to record again, I just didn't know when, and I didn't put that pressure on myself. Raising children takes an incredible amount of creative energy and my priority was these two amazing little people in my life. They're more independent now, so some time and space has opened up," Aaron said, adding that the kids are also becoming more interested in music themselves. "I really enjoy a lot of the pop stuff they listen to but it was also a motivation for me to get them listening to some of the music that resonated with me as a youth." At 14, Aaron discovered Led Zeppelin, the Strawbs, Fleetwood Mac, Elton John, Heart, The Runaways and David Bowie (amongst others) in a pile of discarded vinyl from a college radio station. "I started revisiting this stuff with my kids and it took me back to a place of feeling so inspired by music again. I went, yeah … it's time."
Another creative spark for Fire and Gasoline came in the form of Toronto-based guitar wizard Sean Kelly. Best known for his critically acclaimed Canadian music history book Metal on Ice and as sideman for Grammy award-winning superstar Nelly Furtado, Kelly collaborated on five songs with Aaron, and is now a regular member of her touring band. "Discovering him was like finding the missing piece to a musical puzzle, both onstage and as a collaborator. In terms of musical sensibility, his sense of timing and groove with the band totally worked. We started sending each other musical ideas back and forth and he really appreciated what I was doing and I loved what he was coming up with. We simply clicked," she said.
The songs on Fire and Gasoline are indicative of Aaron's growth as a human being, as a woman and as an artist. There is a feeling of urgency and rawness to the tracks, which were recorded in the manner of an old-school DIY album over a compressed, but intensely creative period of time. Bed tracks were recorded at The Farm, the former Little Mountain Sound Studios, where legendary producers Bruce Fairbairn and Bob Rock plied their trade, churning out classic rock albums by the likes of Bon Jovi (Slippery When Wet), Aerosmith (Permanent Vacation, Pump), Mötley Crüe (Dr. Feelgood) and Metallica's 'Black' album.
"I chose the place because of the deep history and also because I had access to top west coast engineer Ben Kaplan. It was important to me to bring the band together in an old school studio with the vibe – the huge SSL console and everything – and for us to be together in the same big room having eye contact and cracking jokes and being able to play off each other. I sang scratch tracks with the band while the beds were laid down, then redid the vocals later (with engineering and keyboard guru John Webster) in another studio. Singing alongside the band really captured the feeling and energy of our live show," she said.
The results are simply stellar. The punk-pop assault of "Wanna Be" and the sensual swagger of the title track hearken back to the days of "Whatcha Do to My Body" and "Rock Me All Over."
"The first line of "Fire Gasoline" says it all – love is combustible. It's a fragile, precious gift and most of us don't treat it with the care we should. The whole thing blows apart if you don't have trust, but then again, that applies to multiple situations in relationships and life. 'Do what you say, say what you mean,' basically nails it. It's just too bad most of us aren't able to be like that."
"Tom Boy" was penned for her daughter Angella, but stands out as an anthem for anyone who wants to forge their own unique path in life. "I was inspired by that free-spirited energy and confidence that young girls have just before they hit the teenage years and start becoming self conscious," Aaron explained. "I feel like you get that back when you get older, so in a way my daughter and I are in a similar place right now. Like "Metal Queen" and "Some Girls Do", it's about being empowered to be exactly who you are without fear of judgement or ridicule."
"Heart Fix" demonstrates Aaron's increasing fascination with the vagaries of the human condition: what makes us do what we do, say what we say, feel how we feel. "That song is about all the things that we think but never say out loud. We all put our best face forward to the world, even to the people we love the most, but the deepest parts of our heart – only God knows, and that's what I was trying to unveil," she said. "We are basically creating ourselves from the time we are born to the time we die and I know that my motivation is to try and be a better person than I was the year before, last week or even yesterday. "Bad Boyfriend" is a similar theme in that it's about a girl who is painfully self-observant but fails to see that she is at the epicenter of her own problems, all wrapped into a ferocious little rock song."
The final track – the heart-wrenching "Find the Love" – sees Aaron openly processing the pain and sadness of loss in a song that is both memorable and truly inspirational. "I wrote this one and a few others while sitting on Lake Osoyoos with an acoustic guitar. It came from a place of real hurt for me. I've lost three very close friends over the last decade – two from cancer and one, a stroke. They were all young. It hits me how fragile life can be. I know that writing about loss is not a typical 'rock and roll' topic, but I hope it will mean something to anyone who has lost someone close,"
Fire and Gasoline sees a resurgent, revitalized and energized Lee Aaron re-remerging into the rock 'n' roll world with an album that is sophisticated, thought provoking, sublimely entertaining and a whole lot of rockin' fun.
It leaves no doubt that Canada's rock queen is back – better than ever.
Jim Barber
Award winning arts and music journalist.