LEE AARON AND HER BAND
Samantha Lloyd
July 30, 2017
---
Lee Aaron and her band hailing from Canada, take to the stage and the small audience has now grown to around 110 people, the room is slightly more lively and the there's a small tinge of anticipation in the air. The band kick off into the first track 'Tom Boy' as Lee Aaron bounds onto the stage to a rapturous applause and cheer. She looks good dressed in a black spaghetti vest, dark green jeans and a black thigh length buttoned jacket. She is completely dominating the stage, the audience are transfixed on her as she belts out some awesome vocals. Wow she can sing!
The band seamlessly progress through the set which includes songs from albums that span over three decades including the tracks 'Hands On', 'Rock Candy'(a cover of the Montrose classic), 'Fire & Gasoline' from the 2016 album of the same name. Aaron then announces that there's a new album coming out in the autumn (or as she calls it the fall) and the next track is from that album. 'Diamond Baby' kicks off and quite literally Aaron is high kicking in her black knee high boots and the crowd are totally enthralled and mesmerized by her presence. The bass is hitting hard and there's an energy emanating from the stage which is kind of infectious, heads are bobbing and the crowd are loving every minute of this new material. It sounds awesome!
Then we're straight into 'Powerline' which slips into a medley style of 'Lady of the Darkest Night' which I really enjoyed. Aaron is going round high fiving the crowd as she sings. It's really good to see her interacting with the audience so easily, especially one member Andrew, who is dressed in a light blue dress shirt, and she can't help but point out at the end of the song, how well dressed British men are by turning up to a rock gig in a dress shirt! She seems quite amused and Andrew is really loving the attention, well who wouldn't?!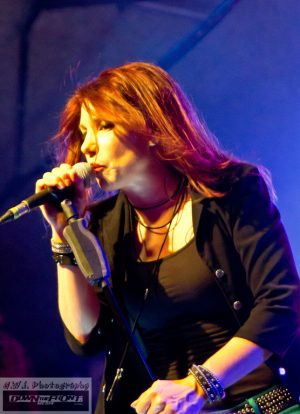 We are then treated to another new track 'I'm a Woman', a heavy bluesy song that has great sultry bass and drums that are really rhythmic and alluring. Aaron calls out 'This is for all you ladies!'. It's a really groove laden track that really seems to suit Aaron bluesy style vocals.Really loving it and so are the audience. Then we're into 'Baby Go Round' from her 1994 album Emotional Rain, 'Some Girls Do' and 'Sex With Love' from the 1991 album 'Some Girls Do' are next and I'm really starting to enjoy watching how Aaron commands the stage. She's confident and charismatic, she oozes sex appeal and she's vocally quite astounding. I love the way her vocals can change from being really clean and sharp on one song to being gritty and bluesy on another. Beautiful vocals as she launches into a cover of Deep Purple's 'Mistreated'. Really enjoyed the way her vocals get so soulful although there's a little bit more reverb than I think is necessary, her vocals simply don't need that much help to sound great. A loud applause and a very satisfied cheer from the audience fill the room as she brings the song to an electrifying close.
Then the bounding bouncy riffs of 'Whatcha Do To My Body' ring out and the audience are spellbound once again, everyone moving with her as she bounds around the stage, the atmosphere is lively and energetic throughout the song but the next track slows us down a little as 'Barely Holding On' begins. It's a slower song, less energy in terms of bouncy riffs but the guitar solo from Sean Kelly is electrifying, Aaron belts out the vocals (once again a little too much reverb for my liking) but despite that I'm totally loving the track. Then Aaron announces that it's their final song, and what better way to end an astounding performance than to play 'Metal Queen'. Everyone is singing along, heads are banging around and the infectious rhythm and beats have everyone swaying and moving. It's a shame that the night is coming to an end as I have found myself really enjoying the band. Definitely going to be watching out for the new album in the autumn.
© Copyright Down The Front Media