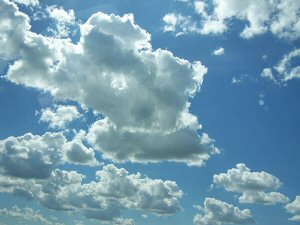 Today I joined the Doodlebops fan club.
I've never joined a fan club before, so this is a first. For those of you who don't know the Doodlebops, they are a toddler's rock band consisting of Deedee Doodle (pink-keys), Rooney Doodle (blue-guitar), and Mo Doodle (yellow-drums). They whip kids into a sugar-high-like frenzy with their exaggerated dance moves, giant clown shoes and slick, pitch-corrected, candy-pop songs.
The DVD is officially banned at bedtime. It winds them up like jungle monkeys. I resent them (the clowns) because I want my kids to think I am cool. Banning the DVD at bedtime made me the uncoolest mom ever … so I joined the fan club as a compromise.
Now I get clown mail.
Speaking of clowns, the funniest thing happened (well, it didn't feel so funny at the time) on the last tour….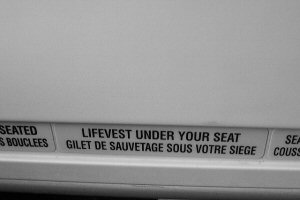 Our flight was delayed a few hours coming out of Calgary en route to Toronto. I phoned the car rental company from the airport to say that we would be late and they said no problem, they were open until midnight. We landed with minutes to spare before they closed. The thing was, we had to get a vehicle and drive to London that night as our reservations were at the festival hotel and we were on stage in the afternoon the following day. What the rental company didn't tell me was that when you miss your scheduled pick up time it's first come first serve, so they rented our reserved oversize SUV to someone else.
They had no vans, no large cars, and no intermediate size anything – but they could offer us a compact SUV. Sweet. All the other on-site rental places had closed.
So me, John, Rob, Dave and Tilden, four guitars, five suitcases, five carry-on bags, one keyboard control module, two boxes of CDs and DVDs, posters and one laptop computer piled into a RAV4. There was no rear visibility whatsoever. There was no leg or elbow room. There was no headrest in the rear center seat. So, I offered to drive. A selfish gesture for comfort on my part disguised as a "Hey, it's late. You guys take it easy and get a little rest."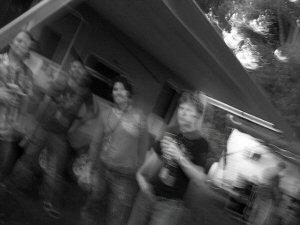 Okay, since when are road construction crews in Ontario doing midnight shifts on the 401? Geez…. I spent the next 4 hours parked with my foot asleep on the gas pedal.
When a Tim Hortons eventually appeared on the horizon, we rolled in there like a bunch of salty cowboys rolling into a small town saloon. I guess we didn't look so hot at that point. Hot chocolate never tasted so good.
Finally, at 5:30 am, after 13 hours of travel, we arrived in London and began unloading the Rubik's Cube packing job we had pulled off.
"Hey, you guys remind me of a bunch of circus clowns who all climb out of a Mini and you wonder how they all fit in that little clown car," the desk clerk laughed.
I laughed too, even though I felt like total crap. I vowed to fix the car thing in the morning.
Oh yes, it was the morning.
Tilden phoned the room at noon and woke me up. I frantically phoned around trying to rectify the cosy situation. Not a chance. Nobody, and I mean nobody, had a big anything left at 12:00 on a Saturday afternoon. Extra double crap.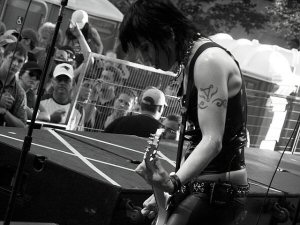 Ass cramps. Leg cramps. Neck Cramps. Lee Aaron and the Ass Cramps. Thankfully, humour is the diaper cream for all tour screw-ups.
We took the stage in London at 4:30 to an awesome crowd.
The band played great despite lack of sleep, ass cramps and mediocre room service. Don Jones Productions – who had asked me to do the Alice Cooper tour earlier in the year (I turned it down because we'd have to be away from our children too long) – ran a first rate production all the way, which made the whole experience that much more enjoyable. Got to hang out backstage with Sammy Hagar and Joan Jett, which was fun.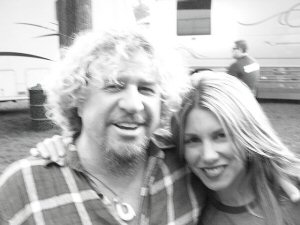 Joan rocked. And sweated a lot. PVC will do that. That must be how she stays in such great shape.
We caught Mr. Cabo Wabo stuffing expensive bottles of wine – from his hospitality rider – into the drawers of his wardrobe case – to discreetly travel over an international border back to California. I'll have to remember that one the next time I'm in France…