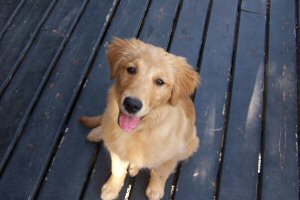 Sitting here at the computer tonight while Daisy the dog sleeps, sprawled at my feet. She's getting huge. By the end of the day she is usually wiped out from being pushed and pulled, hugged and dog piled on, dressed up, teased and tortured by a 3 and 5 year old.
She seems to really like it.
Her worst trait is still chewing on things. She got hold of Angella's brand new dress shoes for school the other day and annihilated one. Then she ate a bike helmet. Yes: A BIKE HELMET! What's wrong with this dog! I thought I was going to lose it. I started yelling at her like she was HUMAN and could understand me: "BLAH, BLAH, BLAH, you *&#@**** DOG! Okay, I admit I was a bit hormonal, but between the shoe, Jett's jacket, Angella's Crocs, 5 library books, some wooden Thomas the Train pieces, superhero figurines and MANY rolls of toilet paper, I was thinking of shipping her back to the breeder in Portland.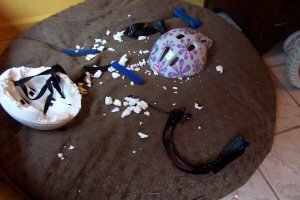 Pooing in the house would be a BIG mistake right now. Plus, she's shedding like crazy.
I love the dog. Really I do.
I joined Facebook a couple weeks ago. Resisted for the longest time. I just hated the idea of people having kind of 'phony' connections with people on the internet. Or a popularity contest – who has the most friends? I mean, who can possibly REALLY have 4,917 friends? But people do. The crazy thing is, once you start using it, it's quite addictive. You wonder 'what's Shania Twain thinking today?' … although I don't think it's the 'real' Shania who added me as a friend.

Maybe it is. If it is, she posted photos of all her old album covers on Thanksgiving Day. "Thank you God for making me so beautiful and successful…." Maybe that's what she was thinking. That's what I was thinking she might be thinking, but didn't say so. Anyway, I'm the real me. In case anyone is wondering, there are also two fan sites – not run by me. Look for this photo to find the real me. I will give status updates about how many rolls of toilet paper my dog has eaten each day, and which cartoons I'm watching right now (1960s episodes of Beany and Cecil) among other compelling stuff.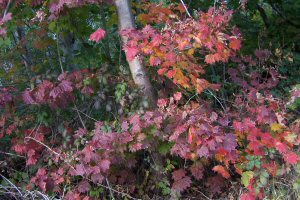 On a more serious note (which is kind of out of character for me)…
November is one of my favourite months usually. I love the cool, crisp fall air, sunny days, colourful leaves crunching underneath my feet and all that harvest-type stuff. Like the earth has come to fruition and there is reason to celebrate. Yet this year, more than any other, I feel touched by sickness and death. Our good friends' wife just lost her battle with cancer last Sunday. My aunt is dying. Just found our dear friends' mother has a brain tumour and my sweet friend Jane, younger than me, recently had a mastectomy.
What's going on around here? We've been anxiously awaiting the results of my own mother's pathology and were just told that the lesion on her lung is malignant. Dear God, she's not even a smoker. It feels so freakin' scary…
I've been so absorbed in my own stuff – finding the 'right' design guy to re-do my website, to stick with Protools or go Logic, which Scholastic books to order, yadda, yadda – it didn't really hit me until right now. A looming presence, yes, but well, I've just tried to keep busy. Don't we all?
Now I'm struggling. Struggling to make sense of the bits and pieces and how they all fit together. I want to manipulate the way things turn out, desperately, yet I know that I'm completely powerless. So many feelings that make no sense right now, glimmers of light, waves of pain, fragments of honesty swirling around in a windstorm of confusion.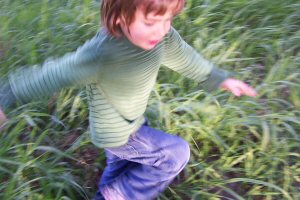 I need one of those light bulb moments. You know, the ones that suddenly move us a quantum leap forward. Seems there are more of the ones that fall flat and make no difference at all. The sudden realization it was just a stupid idea. I hate that. I'm not having any light bulbs go off right now telling me how I should respond or what I should do. I'm frozen. I want to be enlightened, but oh my gosh golly, why does it have to take so gruesomely long and be so hard? The process … I wish there was just a pill you could take for that. The OOPSIE. 'Oasis of Occasional Peace and Spiritually Inconclusive Enlightenment'. Oh right. That was LSD. I digress….
Maybe it's not about always moving forward. Maybe it's about being totally present and letting life do the moving for us. If we stop trying so hard and start having real faith, maybe that's when real transformation begins.
Let it be known, I am doing some philosophical waxing here with NO authority whatsoever.
I know this. We are a culture that loves to possess things, yet we can't take one single thing with us when we leave here. Now that is a FACT. Not a toaster, or an expensive watch, or even our best skinny jeans. We can only make deposits into the bank of life. I think we seriously need to get out of our own way and take a lot more baby steps. Marathon runners have to start out somewhere.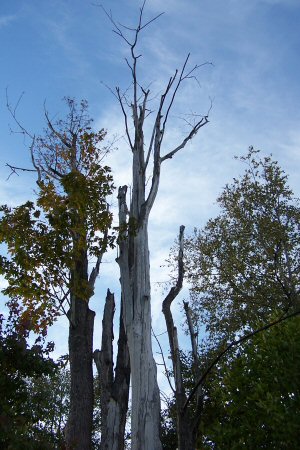 We procrastinate and we strive. We love and we hate. We give and we take, take. We are flawed and vulnerable humans. How God can love us all equally is beyond my comprehension.
And does it all add up to a life well-lived? I wonder, feeling awful after I've snapped at the kids or bold-faced lied to a telemarketer. (Mrs.Who? No, I'm sorry she's perpetually unavailable….) I hope so. When I'm cuddling with my children and my heart swells to ten times its normal size, I'm pretty sure I'm getting far more than I'm giving. Perhaps it all balances out somehow in the end.
People are messy. I am messy.
My short term memory is going, I'm insecure and neurotic and I put off things I don't like to do, but God knows I'm trying.
My short term memory is going, I'm insecure and neurotic and oh yeah, I just said that.
I love my mom so much, but when I talked to her tonight the right words were off floating in the cosmos somewhere. Her cancer was definitely not part of my plan right now. You'd think I would have learned by now to stop making plans. You can never own them anyway.
I guess I need to apologize to the dog.
Maybe I'll return the muzzle … if I can find the receipt….
Baby steps.
*Note: Lee Aaron's Facebook profile picture has changed several times since this blog was posted. You can still find her on Facebook, but be aware that Facebook has certain limits it imposes on people, with regard to how many friends they are allowed to have. It's not that she doesn't accept you, just that she may not be able to. On the other hand, there is no limit to the number of fans a Fanpage can have, so we recommend following Lee Aaron on Facebook through her official fanpage, which she also personally posts to. Really. Lee Aaron Fanpage