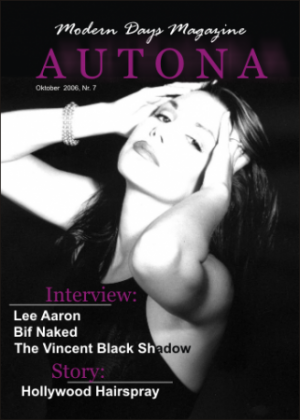 LEE AARON – What really makes the Metal Queen
October 2006
Translated from German by Google*
*Note this interview was conducted in English then translated into German for Autona Magazine, then translated back into English for this post. Some words and sentences may not quite make sense.
Metal Queen – as the name of their second album and then her own nickname in the press. Seen in the album title was a stroke of genius of modern marketing. This was followed with "Call of the Wild" and "Lee Aaron" from their 1985 success par albums. Songs like "Rock me all over" and the Ballden "Barely hold it on" and "Only human" catapulted the Canadian upward and the major press loved it. Then followed the albums "Body Rock" and "Some girls do". After the main shaft of hard rock tended to a close, they still published "Emotional rain" and the grunge-inspired album "Lee Aaron and 2 Precious" – and then she disappeared from the scene for the time being. About a year ago then a live DVD which appeared suddenly the DVD "Live in London", "Call of the Wild" -Epoche, reason enough to inquire after what Lee has done in the meantime. And a closer look at the site is immediately apparent that Lee has itself no longer really a lot to do with that time. On the contrary: After her controversial grunge album, the Canadian devoted her love for jazz, experimented and released the jazzy albums "slick chick" and "Beautiful things". In addition, the family life is as a young mother of two children.
Dennis Rowehl in an interview with the female metal icon from the 80s:
DR: About a year ago the DVD "Live in London" appeared. How is it when you see yourself rocking in the past. What do you think about this time?
Lee Aaron: It was the best time of my life. I had a lot of fun and learned a lot. I have very fond memories of that time. Moreover, I have a brand new show played where I've combined the rock songs of yesteryear with the new jazzy songs of the last two albums. This combination was just very confusing for the audience, but the response was great. It's fun to experiment and is also honored by the fans. For many fans it's nice when they hear the old classics, on the other hand is my voice particularly well in the quiet and bluesy songs to advantage, because you can easily incorporate a lot more heart and passion.
DR: From Hard Rock to Jazz, this is not common. How did it come to this development?
LA: I've always loved jazz and blues. Already in my childhood. Eventually the time came for the changes for me. Mid-90s was the interest in hard rock gradually and since you had to reorient. According to the "two precious" album I've decided to only once to take a break. I decided to just try something totally different things and then I dedicated myself to my love of jazz and have performed with the songs. The positive response has encouraged me to record a full album and so was "slick chick".
DR: Is there a significant difference if you appear with jazz or rock songs, apart from the music itself?
LA: In jazz, you never know what to expect. For example, when a musician decides to simply extend his solo spontaneously, then so be it and the other must be adjusted flexibly to them, so a concert never are alike. This is always a challenge for everyone and makes the attraction.
DR: Are you working currently on a new album?
LA: Yes, I'm going to combine new material. However, I will for the moment not so much time, because I have two small children. I worked 20 years of my career steadily and now of course my family is in the foreground. This is a new, but very nice feeling. Nevertheless, it will of course be another album. This time I will write all the songs alone and produce everything myself in my studio. This is very important to me in my development. It is musically probably go in the direction of pop-jazz. We will see.
DR: Are you apart from your own music or other projects? You are producing as other bands or something?
LA: Actually, I'm already so well utilized. I play 10-15 shows, more shows, and work – as I said – on a new album that I might publish on my own label. I have been towered often whether I would be interested in producing other bands or artists, but for that I'm not ready right now.
DR: What are your own favorite albums?
LA: That's a very difficult question. Now that I think really, it's first "Body Rock", because we have played with a very kleien budget and made sure that it sounds like we wanted it. Secondly, I like "Beautiful things" very well, but that's probably normal, if you say one liked the newest disc is best, because they finally reflects the musical development and would not speak to me, if I only want the old stuff would like. Which discs you like best?
DR: "Call of the Wild" is my fave because it contains a lot of really rocking songs. I've also heard most of this album. I found very interesting the Image conversion from "Call of the Wild" to "Lee Aaron", as you can see on the cover of such a model in an advertisement for hair spray.
LA: (laughs) That's right. We have since just signed a major deal. On the one hand, of course, great, on the other hand you have to take a lot of compromises. It's like this: Someone spent a lot of money in you and correspondingly a consideration. So you do or have to do a lot of things you had not planned. So the photos were shot by a famous fashion photographer and it was a complete change of image instead. Also the sound was smoother and more pop. This is the flip side of the medal, the dependence of the majors. Through the Internet, you have now completely different possibilities of having to justify not to others about yourself and promote.
DR: There are, however, a ton of bands, on which one must first be aware – and there is certainly difficult really to be heard and to make money ?!
LA: That is certainly true. Especially for unknown newcomer bands. However, if you already have a known name, the thing is of course easier. The Lute stop by on your homepage and see if there is something new.
DR: When we're on the home page. On Your Side are only current photos and a photo of the individual sections of your career.
LA: That's right. My past knows you, I will present the current status. What I'm doing now and what makes me now as an artist. To me it is important that the focus is set to the current projects. There is next to my official homepage (www.leeaaron.com) but also an unofficial site (www.leeaaron.net), where you can find a lot of old pictures. I have nothing to do with this page, but they think in order.
DR: A lot of rock stars from the 80s who wrote a biography, as last Mötley Crüe. Do you also considering such a project?
LA: That's funny that you mention that. I actually write my memoirs and am about arrived in the middle. That is my uncensored version of things with all the oddities that have happened to me and how I saw it. However, it is difficult to always find the rest, if you are a mother of two young children. (Laughs)
DR: When could it be published?
LA: I think late 2007 or 2008, I will publish the next album. It would be nice if you could bring out the biography at the same time.
DR: Is not it difficult to bring children and a tour under one roof?
LA: Anything is possible. My husband is a musician (drummer) and we have been thinking about it. It would certainly be a nice experience if the children would be so many impressions already in their early years.
DR: Then they are also musicians with security.
LA: They grow so or so on with a big musical background. My husband is also a musicologist and editor. We have about 75,000 plates at home and a further 10,000 CDs, a real music library. My smallest is 9 months old and holds the drumsticks all right in the hand and does not want to give them too.
DR: Are there any other projects non-musical origin, where do you work?
LA: I'm still involved in local charity projects, which are, for example, is to encourage mothers with many children, as they do not necessarily live in the best of circumstances. Social responsibility therefore.
DR: So it is important for you to be used in particular famous people for the Company or the others?
LA: Definitely. And by that I mean not only public projects, but also the anonymous, in which one's name does not appear. On the one hand, of course, famous people as role models in the public, but it is basically a matter of giving back. If you are blessed with a super life, there is also the social and moral responsibility to give something back to the people in my opinion, which one owes his great life.
DR: When you think of Germany. Is there anything that you miss?
LA: Yes, the German beer. Our beer here is not so special. I like wheat beer – or as it is yet? Hefeweizen – drunk. I am also the fans in Germany have always been treated very respectfully. In the US, it was more along the lines of "That's a wife, what has to do with the Hard Rock. This is not ". In Germany it was taken seriously as an artist. I liked very well. I was long gone in Germany, because it is always very expensive to bring a full band. But I very much hope to finally play there again.
© Copyright Autona Magazine